Elfin Saffer takes on the world of Spartan Racing
---
 By Aric Sleeper
 While most people are hitting the snooze button, Spartan Racer Elfin Saffer gets ready for his morning workout by donning a weighted vest and strapping on a facemask that makes it feel like he's training at an elevation of 15,000 feet. Sometimes, to make things a little harder for himself, he wears a parachute while he runs. In between sprints, pull-ups and running hills, Saffer does burpees—a lot of burpees.
"If you can't complete an obstacle in a Spartan Race, the penalty is 30 burpees, and they're strict," says Saffer, who's also the marketing and promotions manager at O'Neill Surf Shop. "Doing 30 burpees in a regular workout is rough. Even 10 at a time. I've done up to 300 burpees on a course. It's brutal."
Founded in 2010, Spartan Races are held across the country at a variety of different courses with varying difficulties and an ever-changing cycle of obstacles and challenges—from spear throwing to rope climbing to fire jumping.
In 2012, Saffer—a father of two, soccer coach and surfer—heard about the sport of obstacle course racing during a serendipitous haircut. As the stylist regaled him with tales of a Spartan Race she'd recently finished, he thought she was a little crazy. But he mentioned her stories to his coworkers at the surf shop and, a year later, the group had put a team together.
"We decided to call ourselves 'Team Jack O'Neill' because Jack is a legend and we wanted to represent our hometown," says Saffer.
Saffer's son John, then only 14, jumped on board, and Team Jack O'Neill traveled to Monterey for a nine-mile race with 30-plus obstacles. The team was already in good shape (most surfed and played a variety of other sports), so they readied themselves by gearing up with cool jerseys supplied by O'Neill, new kicks, gloves, energy gel and Camelbaks. They thought they were well prepared, but they had no idea what they were in for.
"That race was insane," says Saffer. "We had never seen anything like it. We had never climbed a 60-foot rope; we had never climbed a 10-foot wall and had to crawl under another wall into a pool of mud. It just went on and on and on."
Despite the fact that they were caked with mud and physically destroyed, the team's stoke was high on the drive home. Saffer began to research the Spartan Race's organization and was interested to learn that they support charities, promote physical fitness, and were extremely popular amongst ex-military.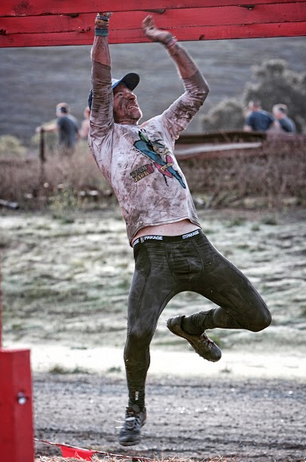 "It's not just some rich man's sport where you buy a ticket, race, and look cool. It's a community where people are really positive and help each other out," says Saffer. "It opened my eyes to a lot of the people that served our country and those that are disabled and who are struggling to get fit. That's when I thought, 'This is really cool. Let's do another one.'"
Soon after their first race, Team Jack O'Neill completed a shorter sprint race in San Francisco. Saffer and his son then gained a mutual goal: earn Spartan Race's trifecta medal, which requires completing three increasingly difficult courses. Already two thirds of the way there, they began to train for the race that would give them the last piece of their puzzle—a "Beast" race in Lake Tahoe that was 16 miles long.
"We almost died," says Saffer. "It took us something like six hours to finish. Right when we thought we were getting close to the end, we had to carry 80-pound buckets up a hill and down again. You'd think we'd be done after that, but we were so amazed with ourselves that we decided to get really serious."
Since completing their first trifecta, Saffer and his son have moved from the competitive level to the competitive elite level and have no plan to stop until they reach the Spartan Race's inner circle. They've continued to add new members to their team and have acquired sponsors including O'Neill, MyPakage, Oral IV, Toadal Fitness, and Play It Again Sports of Soquel, among others. Saffer stresses that it's because of the support he receives from sponsors and his friends and family that he and his team are able to compete at the level they do.
Saffer quit all other sports so that he can train harder to trudge through mud, crawl under barbwire, and scale walls faster and with greater intensity. But it's more than just his innate competiveness driving him. Participating in the Spartan Races has afforded Saffer something more valuable than any medal—quality time with his son.
"Having a bond with your children is so hard especially when they're teenagers," says Saffer. "We still fight, but having those moments of training and traveling and competing together make it all worth it."