The third annual Santa Cruz Waves guide to gift-worthy goods for the holiday season
---
 By: Leslie Muirhead
Prism Skate Co. Board

New to the Santa Cruz skateboard scene is Prism Skate Co., a skater-owned and -operated company created by professional downhill skateboarders and the crew at Caliber Truck Co. These guys pump out a range of boards for all styles of rider. So beginners and experts, rejoice! There is something for everyone. But wait, there's more: Prism collaborates with local artists, which means the boards look as amazing as they ride.
 $130 – $200 for a complete board. Prism boards can be found at Berdels, O'Neill Surf Shop and the Santa Cruz Boardroom.
Hydro Flask
We're all on board with using reusable water bottles and coffee mugs by now, right? Right. And we're all together in wishing they could keep water icy cold on a sunny beach day and coffee hot throughout a foggy morning. That's where the Hydro Flask comes in. The company uses a double wall, vacuum-insulated technology to achieve this desirable ability. They offer a wide variety of shapes and sizes, including a growler. Cheers to never having to deal with lukewarm liquids ever again.
 $21.95- $64.95. Sold locally at New Leaf Community Markets and Outdoor World. Hydroflask.com.
DhamaUSA Wristband
Need a gift for your yogi, gym rat or mom? The new innovative wristband from DhamaUSA is perfect for cooling off after yoga, working out or helping relieve hot flashes. It's purported to dramatically improve recovery times and release heat from a user's body. Lightweight and easy to use, it's perfect to bring anywhere and use at anytime.
$139- $199. Dhamausa.com.
Rainbow Fin Company Fins
This La Selva Beach company has the right fins for all the surf hounds in your life. Whether your grom needs a new set-up for their shortboard or your wife/husband needs a new fin for their longboard or SUP, Rainbow Fin Company has their stick covered. You'll be applauded for changing the way they glide and upping their shred game. Here are three of the company's fins to choose from:
SUP: Wahoo 6.75
Designed for kelp and weedy conditions, this full-bodied fin maximizes your power strokes that will accelerate you through the debris.
Size: 6.75"
$69.95
Longboard: Mikey Detemple MD3
A must have for your longboard with a nice wide base for hold with a flexy tip to provide snap on the turns.
Size: 10″, 9″, 8″, 7″
 $73.95-$81.95
Shortboard: Quad Heater in Medium/Large
While smaller than the Quad White Crow template, this quad is a larger option for your fast-moving maneuvers.
Base: 4.8", 3.8"
Depth: 4.75", 4.5"
$97.95
Waxed Canvas Tote Bag
That special someone in your life deserves something one of a kind. You can customize Strawfoot's "heavy waxed canvas" tote bag by choosing your own colors and adding lining fabric. With two large pockets inside, the new owner's goods will stay nice and organized in the New Year. Bottom line, this local brand is producing some high-quality, durable goods that are worth checking out.
$20- $200. Strawfoothandmade.com.
Cierra Designs Turquoise Earrings
Want to get your lady something unique this year? Local designer Cierra Ryczek has distinctive jewelry that will help you do just that. These beautiful 14-karat goldfill turquoise earrings are one of our favorite pieces. They can be worn dressed up or down. She'll love 'em—and you. Everybody wins.
$40-$230. Find them at Lumen Gallery, lumengal.com.
Onewheel Electric Skateboard
Does your loved one love the feeling of snowboarding across powder or gliding on a wave? Do you want to give them that feeling everywhere, all the time?
Look no further. These things turn pavement into a giant playground. And it doesn't stop there: OneWheel's electric power makes it possible to hit the trails—talk about off-roading in style! Smooth and controlled power has never rolled so good.
$1,499. You can demo and buy boards at Berdels and Covewater Paddle Sports. Onewheel.com
Gold Hanging Plant Pot & Air Plant
These sleek metal hanging planters are a fashionable way to bring the outdoors in—simply fill with any
four-inch plant and adjust the rope to perfectly fit the ceiling height. The recipient of this chic botanical decor will be thanking you for brightening up their living space with a fresh, modern feel.

Gold Hanging Pot: $30. Air plant: $16. Botanic and Luxe, 701 A Front St., Santa Cruz, botanicandluxe.com.
The Active Towel
Know someone who is always complaining about sand sticking to their towel? Yeah, so do we. Luckily, Santa Cruz company Bluestone Imports has the ticket to making that someone's beach days that much better. Their Active Towels are lightweight, absorbent and perfect for the beach, spa, pool, traveling and surfing. Available in 100 percent cotton or a bamboo/cotton mix, they are eco-friendly, versatile, quick drying and oh-so-stylish.
$36.95-$48.95. Available at O'Neill Surf Shop (with their logo), Xandra's Swimwear, Stripe and Zen Island (with their logo). Bluestoneimports.biz.
Vintage Ball Cap
Face it—you're tired of seeing your partner in that same old dirty hat. This vintage-style wool cap, a custom collaboration between Stripe and Strawfoot Handmade, should mix things up. This limited addition style will stoke out whoever rocks it.
$50. Stripe Men, stripedesigngroup.com.
Santa Cruz Landshark Rasta
A true Cruzer board. Urban adventuring will never be the same after stepping onto this landshark, which was born in the shaping room of Santa Cruz Skateboards and lets the twin fin excel on land. Give someone the gift of making tight turns and the ability to roll over anything, bomb hills and carve some serious pavement.
$124.95, Santa Cruz Boardroom, nhsfunfactory.com.
Modarri Toy Car
We're pretty certain you have never seen a toy car like this. Modarri is a small toy company from Santa Cruz that creates and sells beautiful, functional, durable toys. Your little one, grandchild or favorite niece or nephew won't be disappointed: they can build and design their own car, mixing and matching parts so that their ride is totally unique.
Once they place their fingers in the drivers seat, the options are endless with the "Finger Steering System"—from drifting to popping wheelies.
$23.99-$368.99. Childish Santa Cruz, modarri.com.
Surf Spot Framed Print
Behold: an art piece that brings Santa Cruz surfing out of the water and up onto the wall. It's a perfect gift for anyone who enjoys the beautiful California Coastline.
The print lists Santa Cruz surf spots, but don't worry—it doesn't give away their locations! Protect it with a reclaimed wood frame made by Alibi Interiors to give it a natural, surfer-chic vibe.
Print and frame: $125. Sawyer Land & Sea Supply, 402 Ingalls St., Santa Cruz, sawyersupply.com.
Hip & Chick Organiks Holidaze Collection
The mother-daughter team at Hip & Chick Organiks is unstoppable when it comes to making healthy, natural body products that always smell delicious.Their Holidaze Collection, which includes hand and foot cream and bubble bath, is the perfect gift for the busy go-getter in need of a relaxing, luxurious night of pampering. While you're at it, consider getting a little something for yourself—their holiday candles smell amazing and are guaranteed to make your party guests feel right at home.
$18- $28. Hip & Chick Organiks, 745 41st Ave., Santa Cruz, hipandchick.com.
Beginner Boards
So your loved one is learning to surf and wants a board from Santa. What's the best bet for a shredder-in-the-making? The owners of Beginner Boards are surfers and surf coaches, so they know what people actually need to get started in the water. They have an array of buoyant, easy-to-use surfboards for all skill levels—newbies and veterans, alike. From ultra-wide and thick longboards for beginners to playful and short thrusters, they offer watergear that the entire family can ride.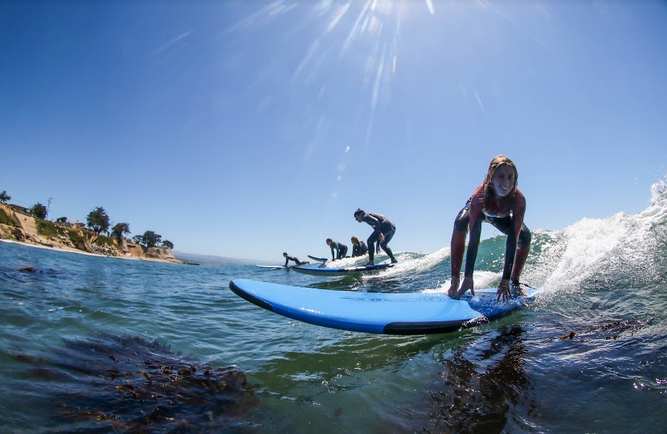 $39.99- $649.99, Beginnerboards.com.