Inside the Monterey photographer's wave-centered world
---
By Paul Wetterau
Sean Gravem's artistic inspiration, Clark Little, made a name for himself as a pioneer of surf photography by shooting from within the massive shore break at Waimea Bay. Like Little, Gravem doesn't hesitate to go for broke in throaty beach break. But unlike Little, many of Gravem's best shots have been taken in small surf—very small surf.
Any of his Instagram followers or the customers perusing his new photography shop on Cannery Row, in Monterey, might be surprised to learn that the powerful-looking wave they're ogling was actually a 6-inch closeout.
It's one of many intriguing things about the 37 year old's colorful photography, nearly all of which features empty waves—whether in daylight, at sunset, or captured at his favorite time of day, before sunrise. Gravem's often up an hour before the sun in a race to catch those ephemeral, early morning conditions he favors: sheet glass, no clouds and red sky.
But his latest challenge isn't so much "getting the shot" as it is understanding the likes and dislikes of his gallery customers. He's enjoying the ride while analyzing the business trends that can allow him to continue to pursue his passion for a living. Waves recently caught up with Gravem to learn more about his busy life as a lensman.
Where are you from? 
I grew up in Davis and went to UC Davis, and graduated in 2005. When I was there, I did the whole scuba diving program—even though it's inland, they have a great marine biology program. I came [to Monterey] in '06.
What did you do before arriving in your current career? 
Originally, I did a lot scuba photography and had a job working for the Monterey Bay Aquarium. I was working on dive boats, within the diving industry, but business would die in the winter months, so in 2008 I became a firefighter for Cal Fire for about eight years.
You're now doing photography full-time, with a new shop on Cannery Row. What are your goals as a business owner?
Right now, it's all just a learning process. … I'm focused on making this place into what it can be. Further down the line, it'd be nice to expand and have another location, too. … It's just awesome to be able to keep doing something that's all you. I've always had a passion for photography and have had an Instagram account, but never really thought it would progress this far.
Do you have mentors or favorite photographers who motivate and inspire you?
Initially, it was Clark Little, one of the main guys credited with pioneering shore break photography. When I was doing scuba photography, I saw his stuff and was like, "I can do that." Lots of what I know now is self-taught stuff, but then you're talking to other photographers and learning from everybody. A lot of the people I learn from are my friends that I shoot with, [including] Sammy Garcia, Patrick Bremser and Tyler Belko. Some of my favorite photographers aren't even ones that are specifically shooting shore break. For example, Chris Burkard tends to shoot a lot of stuff in Alaska and in extreme locations.
What is your preferred time of day to shoot?
Super early in the morning is the best, before the wind picks up. If the conditions are right, I will be in the water about 15 minutes before sunrise. … When the conditions are perfect at sunset, with backlit waves, I like to shoot, too, but good afternoon wind conditions are tough to find around Monterey.
What do you use for equipment?
GoPros are awesome. My [main] camera is a Sony A 6000. … They kind of market it as an action camera, so it's not quite like all of the specs of an SLR. But it outperforms a lot of the other drop-sensor/entry level SLRs. It's perfect for waves because it shoots about 11 frames per second. … With cameras, it's all just personal preference: Canon people are Cannon people, the Nikon people are Nikon people, but I like Sony.
Do you use a leash?
I use a leash made by Knekt. It's a bicep leash, kind of like a modified body board leash. I use all of their stuff [Knekt]. They make wrist leashes and other stuff too, but I use the bicep one because it has the extendables, so I can switch back and forth between hands … which makes it easier to dive under waves, etc.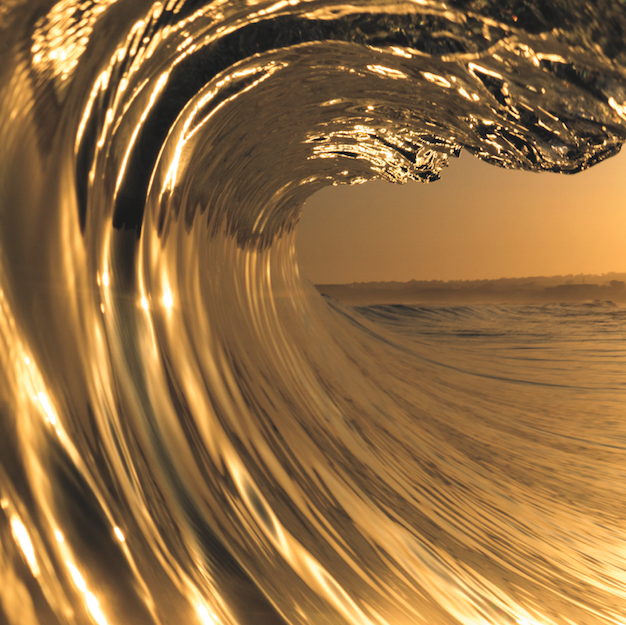 As an Instagram photographer with around 10,000 followers, how do you deal with territorial surfers who don't want their zones exposed?
There's always a little pushback here and there. I'll get comments from people [who are] being protective. But, rest assure, I like the no-human aspect—no buildings, no manmade anything, untouched. A lot of people don't want to buy a picture of my friend getting barreled, anyway. I didn't grow up in the surf culture, but [I can relate]—even divers don't want to share the coordinates of their favorite dive locations. If I find some little mini-wave that I want to shoot, I'll keep it to myself. The waves I like to shoot aren't really surf spots. It's so popular in photography to say the location, but I don't, and about 95 percent of the waves that I like to shoot aren't really surfable waves—unless you want to break your neck. They are, like, six-inch barrels. If I could pick my favorite conditions, surfers wouldn't even be out.
Find Gravem online at gravemphotography.com.