The SurfAid Cup Santa Cruz has done it again. On Sunday, April 30, 2017 Pleasure Point lived up to its name. A clean 2-3 foot west, northwest swell with occasional bigger sets throughout the afternoon made for perfect contest conditions.
Generously hosted by Big Stick Surfing Association (BSSA) as part of their Annual Logjam Classic, the tag team competition saw six teams of five compete for both the Fundraising and Surfing Cup. Over $46,000 was raised to support SurfAid's Mother and Child Health Programs, which help provide clean water & sanitation, improved nutrition, and access to basic healthcare in extremely remote villages in Indonesia.
The pride of Santa Cruz, Westside shredder Nat Young, was one of 6 pro's and local rippers who donated their time to surf in the event. Nat was snatched up early on by Jason Lewis, captain of the winning Fundraising Cup Team Benchmark, who raised $13,500 for SurfAid. This is Team Benchmark's second year winning the Fundraising Cup and Jason shared his enthusiasm for helping others, "Amazing cause, good waves, great people. It's great to see the support of Santa Cruz Community get behind the cause, especially the pros who volunteer their time. Benchmark Property Group is grateful to be able to continually support Surf Aid with their mission to help communities in need."
Joining Nat in the lineup were local rippers, Tyler Fox, Shawn Dollar, Anthony Tashnick, and Jesse Columbo. World Longboarding Champ Joel Tudor brought along some surf stoke from So Cal and helped secure a first-place win for Pleasure Point Life Savers. The team was sponsored by SurfAid Board member, Paul Riehle and local legend Michel Junod who shared his thoughts on winning the Surf Cup, "A surf contest by its very nature evokes a competitive spirit, but on Sunday, SurfAid was supported by teams of surfers who competed together for the very benefit of helping villages halfway around the world. Although hundreds of people witnessed our team of 5 longboard surfers win the surfing contest, the real winners were the people whose lives are going to be changed forever."
The final heat was stacked with competition and in a clash of styles, the Pleasure Point Life Savers rode long boards to oust Santa Cruz Syndicate on short boards for their first-place win. The Fundraising and Surf Champions were presented a custom trophy made from a skate deck thanks to event partner, Aluminati Skateboards. The official contest kick-off was hosted at the home of SurfAid TRIBE Members Steve and Sally Beck and included support from 805 Brewery, Sticky Bumps, Santa Cruz Waves, and Firewire. GoPro provided the lead on the event media thanks to support from Todd Hanson and Per Jerner. The generosity of all the event partners helped set the tone for an amazing weekend at Pleasure Point.
SurfAid Founder, Dr. Dave Jenkins was impressed by the level of surfing from every teams and the hospitality from the community. "To be so warmly welcomed in Santa Cruz and to know that so many more mums and kids will have a chance at a better life is incredible. We're humbled and grateful for the support."
Congratulations to Team Benchmark and The Pleasure Point Life Savers on their dual SurfAid Cup wins and well done to all the teams for surfing and saving lives.
SURFING RESULTS
1st Pleasure Point Life Savers
2nd Santa Cruz Syndicate
3rd Team Benchmark
4th Team GoPro
5th Team Ola Grande
6th Dr. Dave's Team
FUNDRAISING CUP RESULTS
1st Place – Team Benchmark – $13,500
2nd Place – Santa Cruz Syndicate – $7,500
3rd Place – Pleasure Point Life Savers – $7,392
4th Place – Team Ola Grande – $7,000
5th Place – Dr. Dave's Team – $6,150
6th Place – Team GoPro – $5,000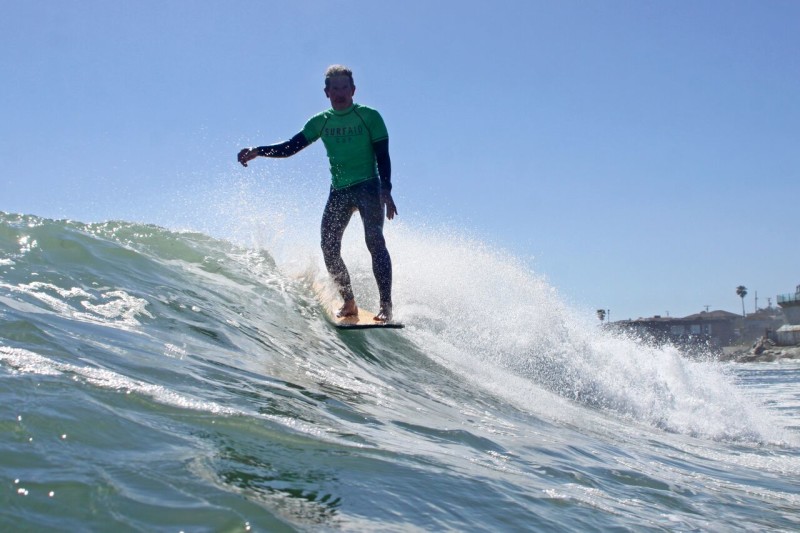 ABOUT SURFAID
SurfAid's core mission is to save the lives of women and children in remote areas of Indonesia – areas connected to us by surfing.  We specialize in working in very isolated villages where the maternal and child mortality rate is extremely high.
Many in our communities suffer from preventable causes. SurfAid implements a "hand up, not a hand out" philosophy toward aid. Local staff provides advice, training, and expertise, but it is up to the community to implement and embrace change. SurfAid's Mother and Child Health Programs involve education in clean water and sanitation, improved nutrition, and access to healthcare.
SurfAid's EHOWU program which serves a population of roughly 9,000 in Nias has proven results in reducing infant and maternal mortality rates. SurfAid has helped to reduce maternal deaths from 8 annually to zero for two years in a row. During the same timeframe, the mortality rate for children under five has all but disappeared with only one death reported last year. That is down from an average of 22 per year at the start of the program in 2012.
In the past sixteen years, in addition to building award winning health programs, SurfAid has helped communities re-build their lives after five major natural disasters – earthquakes and tsunamis in the area.
surfaid.org
For more information contact:
Erin Miserlis
e: erin@surfaid.org
m: 619-723-0222