How the stoke of youth has reinvigorated the Taylor family
By Neal Kearney
---
It's early on a Saturday morning and 10-year-old Jackson Taylor is waxing up his new 4'4" mini-fish shaped by his grandfather, Pat. Jackson's dad, Seth, is brewing up a cup of coffee, and they are both chomping at the bit to get in the water. This is their ritual and their bonding time: scouring the county for grom-friendly sandbars or point breaks to shred together.
Seth, a general contractor and one of Santa Cruz's best goofyfooters, loves sharing surfing with his son—as any surfer knows, the only thing better than the stoke surfing gives you is if you can share it with your loved ones. For Pat, designing boards for these two has brought things full-circle, inspiring him to revamp his business and help his up-and-coming grandson dial in his equipment.
Pat Taylor, 62, was born in Seattle and moved to Southern California at age 6. He caught his first waves at age 8 in the Palos Verdes Cove, and starting shaping—primitively—as a teen. "I shaped my first board at age 15 in my dad's garage with a sureform [shaping instrument that shaves foam] and little else—I was so clueless," he says.
He moved north after high school, and began studying at Cabrillo College. He found Pleasure Point, which was still considered a "surf ghetto" at the time. "It was the perfect base with great waves out front and centrally located between Moss Landing to the South and Waddell Creek to the North," he says.
During this period, Pat hooked up with Steve Coletta, one of Santa Cruz's greatest shapers, and began sporadically glassing the customs that Coletta built for him.
Soon thereafter, Corey Smith, the owner of Santa Cruz Surf Shop, needed help making boards. Pat stepped up and from 1980 to 1990, Taylor/Santa Cruz Surfboards was the go-to for high-performance short boards, boasting a stacked team including Josh Mulcoy, Shawn Barron, Anthony Ruffo, and Richie Schmidt. "This created instant demand locally, especially with the hard-core locals," Pat points out.
Pat and his wife, Janet, had Seth at a young age and did their best to provide for their growing boy. He was a water bug like his old man, and besides Pat being regular foot and Seth being goofy, it was clear that the surfing gene has passed from father to son. "I learned to surf at 38th Ave., just down the street from our house on 37th Ave., with Matty Coletta and Solomon Mitchell—right in front of Jack O'Neill's house," Seth recalls. "We watched our dads and the older kids and pushed each other to learn to surf." Seth became an extremely talented surfer. He didn't go on to win national championships or score magazine covers, but if you ask anyone who knows the area's talent well, odds are that Seth's name will come up as one of the best.
As he settled into middle age, Pat began shaping less and less. It's hard to compete—even on a local scale—in a new world of foreign made "pop-outs" and glorified big name brands like …Lost Surfboards and Channel Islands. But when Seth was gifted his own baby boy 10 years ago, things changed. When Jackson was barely tall enough to go on most of the rides at the Santa Cruz Beach Boardwalk, he was already out in the water ripping on his grandfather's custom made surfboards.
"Shaping boards for Jackson has been a huge shot in the arm for me," says Pat. "These boards are so small"—4'2" on his last fish—"and really hard to hand shape, as I have to reconfigure the blank rocker, thickness, foil, etc. There's not much out there that I haven't designed, but … making these little boards is a whole new, and gratifying, challenge."
Seth, who wanted to ride small boards in small waves with Jackson, helped his dad with the design and development of the brand's twin/tri finfishes, which all three Taylors now ride.
Every weekend, on boards shaped by their own bloodline, Seth and Jackson team up to find fun waves with their friends. "We usually plan our day out around where the surf is going to be the most fun, considering tides, swell direction, and wave size," Seth says. "We surf a couple times and have a few skate sessions in between."
The toe-headed 10 year old may not yet completely comprehend the significance of his role in motivating his dad and grandpa—but he sure is stoked. "My dad helps me out in the water and shows me where to sit to get the best waves," Jackson says. "And it feels good to be riding surfboards that my grandpa made—he makes the best surfboards!"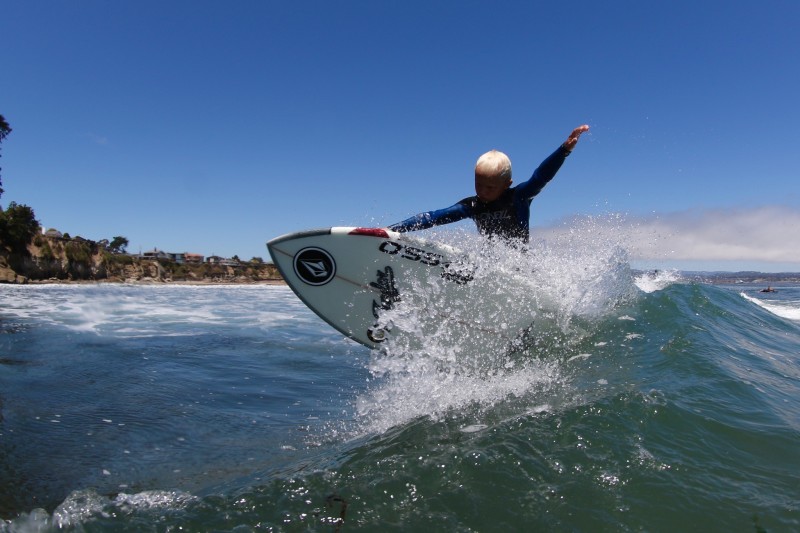 Jackson has been competing for a few years and has secured some sweet sponsors: Volcom, O'Neill Surf Shop, Rainbow Fins, and, of course, Taylor Surfboards. He hasn't gotten his hand on the Sureform, but he's allowed to watch Pat shape boards.
Jackson's youthful vigor and excitement has revamped the Taylor name, and the orders have been began pouring in. "Seth and Jackson surf all weekend locally and people take notice in and out of the water," Pat says. "They see other dads who remember Taylors from the '80s and it brings them back to when they were kids, full circle. Now, Seth's in charge of promotion. I'm still a hardcore shortboarder, and love making these boards—it's what keeps me going."
For Seth, having Jackson was a wakeup call. "Being a parent forces you to reel yourself in a little and become a role model," Seth says. "Plus it's just so much fun surfing with my son—everything is new and exciting for him, and that feeling is contagious. I get to be a grom all over again!"