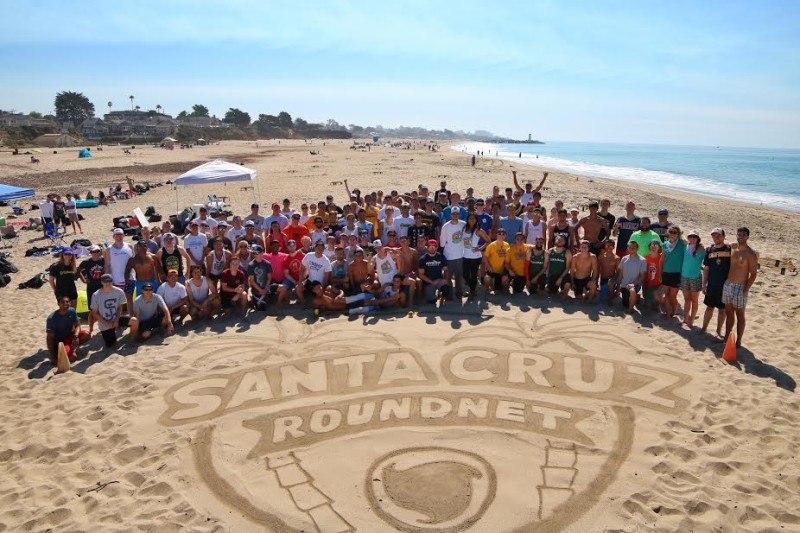 BACKGROUND:
Santa Cruz Roundnet has quickly become recognized as one of the most established and sought out communities in Spikeball. With consistent pick-up games and tournaments hosted by Santa Cruz Roundnet Founder and nationally ranked/premier status player Ryan Navaroli, the Santa Cruz Roundnet community has grown significantly. The Santa Cruz Roundnet Instagram includes over 4,000 followers and their Facebook group includes nearly 300 members.
TOURNAMENTS:
Each of their past four signature tournaments hosted to date have been a huge success drawing over 40-50+ teams.
Most recently, their 2nd Annual Santa Cruz Summer Showdown (pres. by SAVAGE) brought in 58 teams / 116 players to Seabright Beach. This tournament was also the largest sponsored Roundnet tournament to date with 17 sponsors (including local sponsor LifeAID Bevco, and previously Santa Cruz County Parks). Notable players included the former #1 Nationally ranked player (and Spikeball employee) Skyler Boles, 2016 National Champion Preston Bies, and a handful of premier status players including Santa Cruz native Will Potter who is one half of the Santa Cruz Slingerz (Ryan's teammate). A dozen women's players were also competing playing as either a CoEd or Women's Division team.
All ages and levels of experience compete: from teenagers to retirees. There were also family members playing together.
This tournament has been featured by the Santa Cruz Sentinel, The Good Times, KION 5/46, USA Spikeball, Visit Santa Cruz, and other local news outlets across the County.
2nd Annual Santa Cruz Summer Showdown Results:
Open Division:
1st Place – Chico State Tennis Club: Skyler Boles & Billy Buchhauser. 2nd Place – No Shirt & No Height: Preston Bies & Jordi Vigna. 3rd Place – The Veterans: Sam Buckman & Jason Rhoads. 4th Place – Chico Phantoms
Women's Division:
1st Place: Spike Storm, 2nd Place: Lady Drankgon's, 3rd Place: Farmhers
photo: ANDY FURIA
MORE ON FOUNDER RYAN NAVAROLI:
Navaroli, who was awarded "Athlete of the Year" for Event Santa Cruz's 2017 NEXTies from past NEXTies winner Tyler Fox, recently graduated with his MA/PPS in Counselor Education from San Jose State University. Navaroli has shared his passion for Spikeball and his Santa Cruz Roundnet following to all ages of students in schools throughout Santa Cruz County from either live school demos to implementing Spikeball into PE curriculum. Navaroli states that students have become addicted to this new emerging sport and have found a safe and portable new way to become physically active.