Hi there, my name is Grace Gooch.  I grew up all around Santa Cruz, but spent most of my childhood in Soquel until my family moved out to Corralitos in my teenage years.  For the majority of my life, I have found the most comfort in the natural world, especially the ocean.
I started surfing when I was about 16 years old. Only by the grace and kindness of others was I able find my way in the lineup. I am forever grateful to the amazing surf community of Pleasure Point, because without surfing I know I would be very lost. Other than an occasional dip in the beautiful ocean, I also enjoy spending time in the redwoods. We are so blessed to live in a place with such beautiful waves and a magical forest to explore in such close proximity.  At the moment, my day mostly consists of taking care of my two children, although in the past I have worked as a preschool teacher for many years, and I am a licensed Esthetician.  I have a 4 year old son name Jaya, and an 8 month old daughter named Raea. They are my entire world!  It's hard to remember what my life was like before them. It feels as if they have been with me my entire life, guiding me along on my path.
Being photographed for this feature was a stretch for me honestly, as I have usually strayed from attention my entire life. It has been an honor and privilege to work with such an amazing group of women and I am very thankful for an opportunity to push myself and share a piece of myself in an unfamiliar way.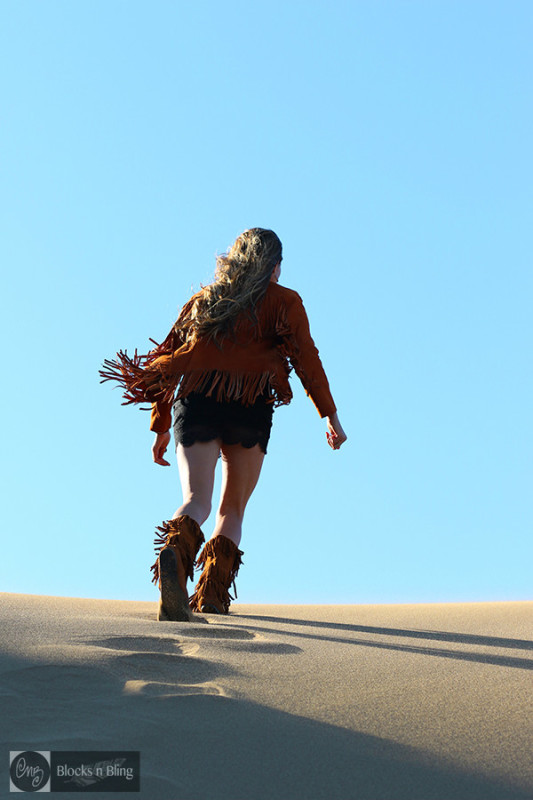 BnB: Where is your happy place?
GG: My happy place is curled up on my giant couch next to my beautiful children and husband Darshan. I have a cup of tea in hand while maybe watching a good show on discovery (like Alaskan bush people) haha
BnB: What was you favorite children's book?
GG: My favorite children's book was definitely "Where the Sidewalk Ends" by Shel Silverstein.  "Where the Wild Things Are" is a close second. It's strange how you can remember a poem or a book word for word through all the years. It has been fun reading them both to my children and watching their love for them blossom.
BnB: What is your spirit animal?
GG: My spirit animal is most definitely a deer. I'm drawn to their graceful features and delicate movements. Whenever I spot one in the forest or one crosses my path, I instantly am washed with a sense of peace. They remind me of the deep desire to inhibit peace in a busy and hectic world.
BnB: What is number one on your bucket list?
GG: My number 1 bucket list wish would definitely be to swim with dolphins.  They seem so healing, intelligent, and wise to me. They also scare me a little bit from time to time, haha. The combination of all these emotions I experience around them might  be life changing for me.
BnB: What did you do last Friday night?
GG: Last Friday night my husband and I got to watch a movie together (And it wasn't rated G).  This is the first time in about 8 months we've had this luxury. As a parent I have found that it is the little things that keep us all going day after day.
BnB: Local surf spot?
GG: My local surf spot would be probably be 2nd peak at the Pleasure Point. I have been surfing there since I was 18 and haven't strayed too far since haha:)
BnB: What kind of sunscreen do you use?
GG: I definitely layer my sunscreens on a regular basis: First Watermans , then Sheishedo, and sometimes even pink zinc. Protect your skin people!
BnB: What is your favorite time of day?
GG: My favorite time of day would be after dinner when my family and I sit down and talk about our rose and our thorn (our highs and our lows). This time is so very precious to me; a time to reflect on what went wrong and what went right.  It is a time to set our intentions as a family, seeing where we can improve and to be grateful for the rose.
BnB: What is your favorite wave or surf spot?
GG: My favorite surf spot would have to be Rincon. Rincon holds a special place in my heart. My family and I have been going down there for years and every time it is magic for me. Somewhat recently we actually caught our first family wave together. Jaya and Darsh were riding tandem as I was on my board gliding right behind them. There was this profound lasting feeling we all experienced together after paddling out from our first wave. It was so deeply special to look over and see my child beaming from pure stoke and sharing such a golden moment together. Just pure contentment:)
BnB: Who is a surf inspiration to you?
GG: Hands down Ashley loyd Thompson. She is the most beautiful surfer inside and out I have ever seen. Her style and grace on the wave is so beautiful to witness. It has been so amazing getting to have so many talented lady surfers in the lineup. We are all so blessed.
Photography by Nikki Brooks
Styled by Blocks-n-Bling
Jewelry by Charlotte Levy: Tangible Goods on Etsy