JIM PHILLIPS ON DISNEY, DEAD BODIES AND THE STORY BEHIND HIS MOST FAMOUS IMAGE
By Neil Pearlberg
---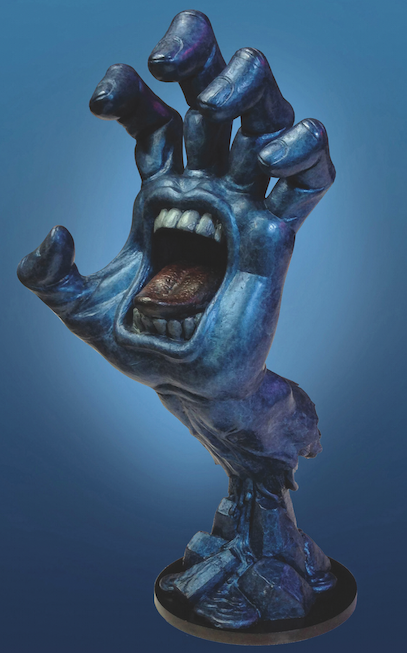 Jim Phillips can name the exact moment he first felt the calling to become an artist. It was 1956, and he was watching Walt Disney's animated film Pinocchio at a local movie theater. Soon afterward, he bought his first bottle of Higgins India ink and got to work trying to create Disney-like animations.
"From that moment on I was set for a life of pen and ink drawing, and it evolved to the graphic style that I am known for," he says.
Phillips created his first character later that same year—a baguette-nosed man named Dudley, who he drew in different costumes and scenes. "My first ink drawing was done like a cel [celluloid sheet] on acetate, and I made Dudley as Elvis Presley, who was bursting onto the scene at that time," he says.
Phillips went on to develop an edgy illustration style that landed him the job of Art Director at NHS, Inc. in the 1970s and 1980s. Appearing on thousands of skate decks, shirts, stickers and more, his in-your-face imagery helped shape skateboarding culture. One of his most famous designs, the Screaming Hand, is currently being celebrated in an exhibit at the Santa Cruz Museum of Art & History. The show features variations of the Screaming Hand made by 200 different artists. "I loved the idea of the interactive art show," says Phillips, "I feel so proud that I could stir the interest of so many."
Though the skate and art worlds are celebrating the 30th anniversary of the Screaming Hand's commercial debut, the first rendition actually appeared much sooner, in 1959, when Phillips drew the hand of a drowning man projecting out of the water.
By strange happenstance, a week later Phillips was peering down from the cliff at 26th Avenue Beach and spotted the body of a swimmer who had just drowned. He scampered down the dilapidated stairs to take a closer look.
"It was the first dead person that I had ever seen," says Phillips. "There was snot and blood coming from his nose, and it really creeped me out." The young artist compared his drawing of a drowning man's hand to the real-life drowned man who lay at his feet.
"It was heavy," he says. From that moment on, the "hand" was engraved in his mind.
Twenty years later, NHS, Inc. commissioned Phillips for a graphic that it could use on its Santa Cruz Skateboards brand merchandise. Phillips looked down at his left hand and saw a mouth screaming at the top of its lungs. He made one sketch and took it down to Santa Cruz Skateboards for approval.
"Jim's art was definitely a major influence on the '80s skateboarding and punk rock scene," says Steve Caballero, who rode for the Santa Cruz Skateboards team at the time. "He drew many iconic images that will last the test of time."
And although those legendary designs evoke a much more menacing style than was ever associated with Walt Disney, Phillips cites the animator as a major influence. When asked about his favorite Disney character, Phillips replies, "Well, that would be Walt himself."
"He was probably the most famous artist of our time—maybe of all time," he explains. "A man driven by the characters he created, a man too obsessed with his work to have friends, a life that was the embodiment of agony and ecstasy." (Second to Walt, he adds, is Mickey Mouse in the role of the Sorcerer's Apprentice.)
Talking to Santa Cruz Waves, Phillips' son and fellow creator of eye-popping graphic talents, Jimbo Phillips, floated the idea of a "Screaming Hand Land" amusement park—a Disneyland for the disturbed. Phillips Sr., when asked, began musing about what the rides would look like—perhaps a slide down the Screaming Hand's tongue, he offers.
Local pro skater and graphic designer Judi Oyama sees endless possibilities based on Phillips' crazed creations: "A Screaming Hand roller coaster, Slasher Knife merry-go-round, Running Eye haunted house, Woodie car rides, shark mouth photo booth," she says. "[There are] a long list of art options from the Jim Phillips collection—too many to imagine. It would be awesome."
The closest Phillips has ever come to something resembling this was when he submitted a proposal to the City of Santa Cruz for an 8-foot-tall, skateable concrete Screaming Hand at the then-new Santa Cruz Skate Park.
"But it was disqualified as an entry because it was an established business icon," he says. "I guess we need to make our own park so we can do what we want."
Now, if you ask us, that sounds like the happiest place on Earth.
The Screaming Hand exhibit at the Santa Cruz Museum of Art & History runs through March 26, 2017. Learn more at santacruzmah.org.