Our next City Hall to YOU on Thursday, May 4, will focus on the local housing crisis in response to input from neighbors throughout last year's City Hall to YOU series.
Mayor Cynthia Chase will present details of the City's upcoming housing outreach initiative. There will be an interactive housing mural and informal voluntary surveys. Vice Chancellor for University Relations Keith Brant will be available to discuss the proposed increase in UC Santa Cruz housing capacity.
City Hall to YOU will also address the various neighborhood concerns of residents and business owners who live west of the San Lorenzo River—a larger area than the City quadrants which were the focus of the 2016 forums. We welcome individuals from the Westside, Downtown, Beach Hill, Beach Flats and Harvey West areas to speak directly with City leaders and staff.
This "West of the River" event will provide increased opportunity for public dialogue. In addition to the one-hour open house, there will be more time during the town-hall program for neighbors' questions and comments.
If you have concerns or questions about the proposed Wharf Master Plan, vacation rentals, corridor rezoning or anything else, this is an opportunity to talk with City staff who oversee these efforts. Engineers, elected officials and managers across all City divisions from parking services to climate action will be available for one-on-one dialogue.
There will be 19 tables displaying City projects and programs relevant to neighbors west of the river including streets slated for Measure H paving, the Pacific Avenue Contraflow Bike Lane and upcoming Safe Routes to School Crossing Improvement locations.
You can also get a sneak peek of the City's Bike Share program poised to launch in late August.  One of the 250 bikes slated for Santa Cruz will be on display. A representative from contractor Social Bicycles and Active Transportation Planner Claire Fliesler will answer any and all questions.
Police Chief Kevin Vogel and both deputy police chiefs look forward to speaking with you. Their tables will include a video question and answer booth where dialogue will be captured to share with the greater community through social media.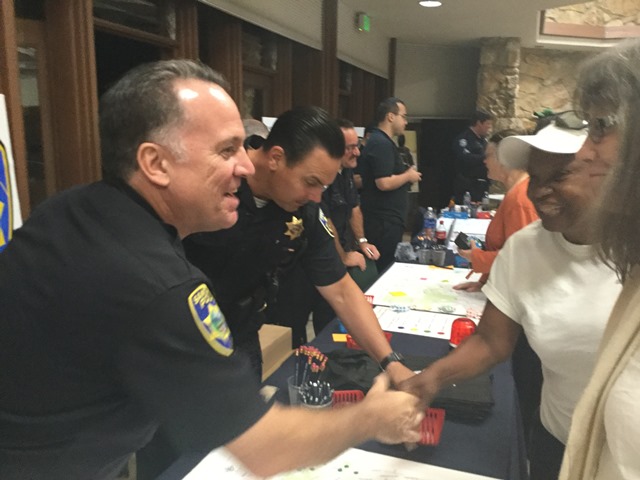 If you live or work on the Westside, in Downtown, Beach Hill, Beach Flats or Harvey West (or any other part of Santa Cruz for that matter!) please join us at West of the River City Hall to YOU next Thursday, May 4, 6:30 p.m. at Peace United Church of Christ, 900 High Street.
More information: cityofsantacruz.com/cityhalltoyou.