The Santa Cruz photographer chases rainbows, waterfalls and the Milky Way
By Dave de Give
Most people chalk up finding a rainbow to a stroke of good luck or chance, but acclaimed Santa Cruz photographer Neil Simmons has refined the art of rainbow spotting practically to a science. While he enjoys seeing rainbows as much as anyone, he also takes a certain satisfaction in putting himself in the right place at the right time to photograph them, whether it's in the Monterey Bay, at a Yosemite National Park waterfall, or at a geyser at Yellowstone National Park.
"I kind of have a knack for rainbows," says Simmons, who has honed the skill of determining the exact angle between the sun, his camera and the water needed to see and photograph these auspicious streaks of colorful light.
Whether it's finding the perfect rainbow by day or capturing incredible shots of the Milky Way at night, Simmons fills the role of not only outdoor photographer, but also of amateur astronomer, budding meteorologist, and a steadfast collector of maps and apps that help him track what the Earth and the stars are doing on any given day. He has, for example, mapped out and recorded the best times and positions to capture rainbows at the various Yosemite waterfalls and he recently began doing the same thing for geysers in Yellowstone. Planning and preparation are an important part of his craft, and getting a great picture is the reward that motivates him to put in the hard work.
"If I put myself in the right position, good things happen," says Simmons.
Waves recently caught up with Simmons at his Capitola Village photo gallery.
What's your favorite time of day to shoot your fine-art photography?
Night photography is my favorite because you kind of know what's going to happen but you kind of don't. I like it a lot because you can manipulate things with flashlights and other lights.
Do you have a favorite photograph?
This [shot of the Milky Way galaxy from Ancient Bristlecone Pine Forest] is my favorite shot I've ever taken. Those trees are the oldest living things on Earth; they're called the Ancient Bristlecone Pine trees. Just being in that place is so special because you're with the oldest living things on Earth. You're up at eleven, twelve thousand feet, not a lot of people are around. That orange glow, that's LA, like, 300 miles way. I'm nowhere near Southern California or LA but you just can't escape the glow it gives off. But it kind of helps make the shot—it shows you the mountain range there. If you look at that shot long enough, that tree looks like some crazy creature, like it's from another planet [with] sci-fi, crazy Halloween colors.
How do you illuminate both a tree and the stars in the same shot?
It's a 25-second exposure and I'm just lighting up the tree with a flashlight for three seconds. I've seen the Milky Way, but the camera picks up way more of it because it's sitting there for 25 seconds, letting in more light. So I can flash the tree for a couple of seconds. If I did it for more than three seconds, it just blasts out the whole picture, just way too bright. We call it painting with light—just a couple seconds and then it's done.
What are the roles of planning and spontaneity in your work?
I'd say most of it's planned, because I know where [for example] the Milky Way's going to be. I know East, West, North, and South, where everything lines up. And there are apps out there that certainly help you know were the moon is going to be, or the Milky Way's going to be, and what time, what day—so I just try to use those creatively.
There are things in Yosemite that everyone, especially photographers, knows about, like a moonbow [lunar rainbow] twice a year … [or] the 10 days a year the sun is lined up at Horsetail Fall, when it gets that reddish color. I'm trying to create the Santa Cruz version of that: how the moon will line up with the cement boat or the lighthouse. And where do I need to stand to see that?
How do you prepare for a specific shot?
When I show up to a place like Yellowstone, I'm already thinking, "OK, West is here, East is there," … so that later at night if I want to get the North Star up above something like a geyser or [line up] Yellowstone Lake with the North Star, I'm already thinking [about it]. I'll look at a map or walk around, because not many pictures happen at 1 in the afternoon, so I might as well think of stuff and get the compass out and try to figure out what I can line up later.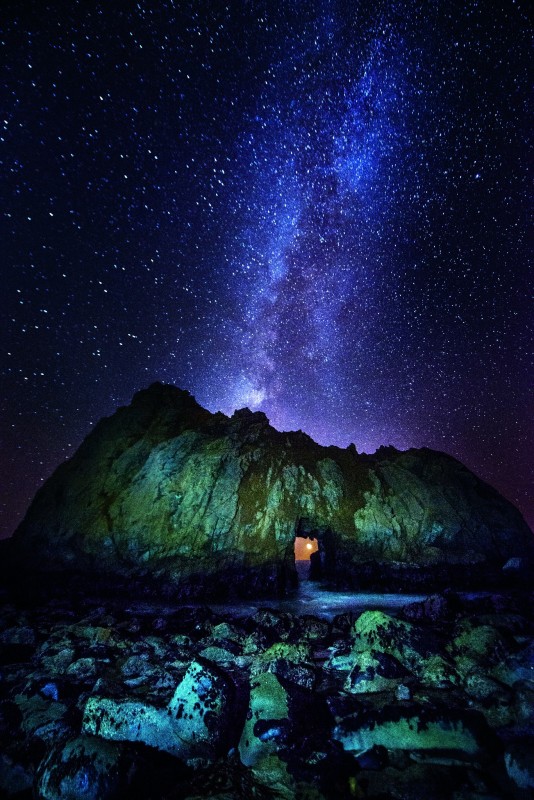 Visit Neil Simmon's gallery at 309 Capitola Ave., Capitola. Find him online at neilsimmonsphotography.com.