Off the Beaten Path
By Brad Oates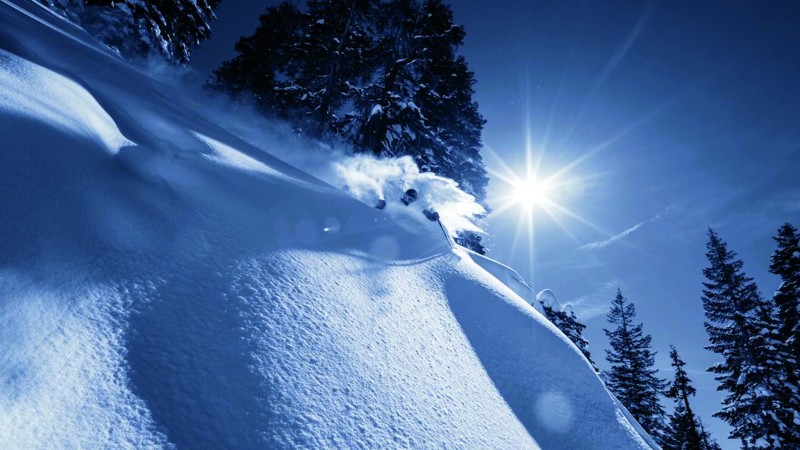 When the Monterey Bay looks like a lake and you've already mastered the 20-plus ski resorts in Tahoe and the Central Sierras, why not avoid the crowds and still earn your turns? At 400 miles in length, 40 to 80 miles wide, and just four or five hours to the east, the Sierra Nevada Mountain Range produces a shred-able winter wave that can be ridden 365 days of the year if you're willing to hike for it. What are you waiting for? Let's head out into the backcountry and get radical.
What's the Backcountry?
The backcountry is anywhere outside of a ski-resort boundary. It can be much more challenging than a ski resort or totally mellow—it just depends. While it's free, liberating, awesome exercise and a great time with friends, keep in mind that there is no one to check for avalanche danger, maintain the area's safety, dig you out of a tree well, phone for help, or harass you for going too fast. You are on your own out here. Tread carefully. Consider hiring a guide or bring someone with local knowledge if you are exploring a new backcountry zone. Ease your way into backcountry exploration. You'll be stoked that you did.
Gear:
A good ski, snowboard or a splitboard setup will cost you between $1,000 and $2,000. A splitboard separates into two like skis. You apply touring skins to let you climb up the hill, re-assembling the board once you get to the top so you can shred down the mountain. The bindings have free-hinged heels like ski bindings and splitboards use the same type of climbing skins that skis do. You'll need all the normal snow sports gear: pants, jacket, goggles, helmet, gloves, boots and ski poles. On top of those, throw in the backcountry specifics: climbing skins (retailing at around $100), avalanche transceiver ($250), shovel ($50), probe ($70), crampons ($175), a backpack ($90), and a medical kit ($20). While you're at it, why not invest in an avalanche airbag pack ($499) that inflates when you are being hit by an avalanche? You are about to enter some tricky terrain. This pricey gadget might just save your life.
Safety:
Avalanche Awareness Courses are highly recommended before heading out in the backcountry.
Always check the weather, as well as the avalanche forecast (sierreavalanchecenter.org).
Know how to read a snowpack.
Have a snow-study kit with you at all times.
Wait upward of 48 to 72 hours after big storms before visiting the backcountry so the snow can stabilize and settle.
Wear an avalanche transceiver and know how to use it. Practice using them with your buddies before heading out.
Use common sense, tell people where you are headed, and never go alone.
Carry a backpack, shovel, probe, water, a compass, cell phone, snacks and bring plenty of good vibes.
When to Go:
December to May is prime backcountry time. While this window will deliver the bad weather and the large snowfalls, it will also offer the untracked powder and the best riding days of the season. You can backcountry shred every week of every month all year, though, if you can stomach Bay Area traffic and/or somehow avoid it. Mounts Lassen and Shasta will hold snow and can be ridden every day, weather permitting. Follow the weather forecast on noaa.gov to dial in some good times.
Where to Go:
Sonora Pass (220 miles)
Castle Peak (236 miles)
Donner Summit (237 miles)
Mt Rose Backcountry (274 miles)
Mt Lassen (302 miles)
Mt Shasta (334 miles)
More Information: