The big-wave lenswoman on how surf photography changed her life in the wake of a traumatic brain injury 
By Elizabeth Limbach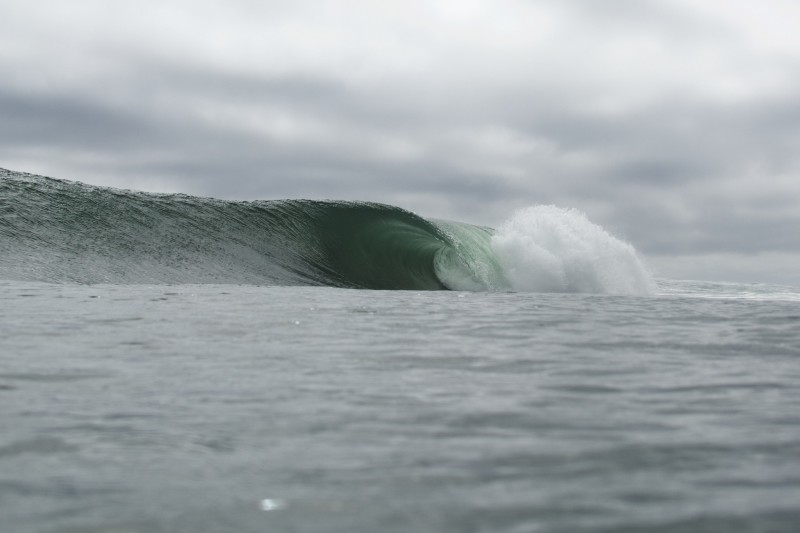 Life didn't go as planned for Audrey Lambidakis. Seven years ago, the Santa Cruz native was a college track athlete with her heart set on becoming a flight nurse after graduation. Her life was all "running and books," without room for much else.
Then everything changed in a moment. Lambidakis fell on her head during an improv class and sustained a brain injury that indefinitely derailed her plans, tossing her into a cycle of cognitive dysfunction, relentless pain, disorientation, and speech loss. Eventually, after five years on a merry-go-round of medical treatments and misdiagnoses, she was correctly diagnosed with vestibular migraines, tremors, ocular damage and post-concussion syndrome. It wasn't until the summer of 2017 at the Mayo Clinic that she began receiving treatment that actually helps.
It has been a long and painful journey. Following her accident, Lambidakis couldn't talk, listen, read, or write for more than a few minutes at a time. No longer able to run, drive, study, or live on her own, she was forced to drop out of school and move home. Soon she was also battling a dark depression—a common reality for those suffering from traumatic brain injury. The rate of depression increases by nearly eight times in the year following such an injury, according to a 2010 study published in the Journal of the American Medical Association.
Things began to shift when her mom brought her to the beach one day. "It got into my soul, it just kind of soothed something in there," she says. For a girl from "Surf City," Lambidakis had never been much of a beachgoer. She didn't know the first thing about surfing, nor had she ever dabbled with photography. So it came as a surprise to everyone, her included, when surf photography became her lifeline.
While she charged ahead in her recovery, Lambidakis' photography blossomed from an amateur point-and-shoot style to professional and eye-catching, landing publication with Magic Seaweed, Surfing, and this magazine. These days, the 25 year old can often be spotted—clad in a helmet and goggles—bobbing in the lineup at The Lane, or shooting from a boat in the channel at Mavericks. Waves caught up with her to learn more about how she managed to pick up the craft while coping with the effects of her injury.   
How did surf photography become part of your recovery process?
In between doctors' visits, if I had enough energy I'd go to West Cliff and take photos. They weren't any good, but it was fun and it was beautiful, and it was something to focus on. I'd be wiped after an hour and would have to rest for days afterward—my parents hated it. They were right: it was not exactly the best for my recovery. But it was something new and I was moving forward out of what I was going through. I had been so fixated on school and running and I lost both of those … and this was the first passionate thing I felt since losing everything.
How did you transition to shooting from the water?
The water was always the goal—I wanted to get as close to the action as possible—but I couldn't exercise because I'd lose my eyesight. So it was a waiting game to see when I had recovered enough to try and get in the water. I finally got the OK from a doctor to try it out. I splashed around in the water, and when that felt good, I got [a camera] housing, and then I started shooting.
In 2016, I swam out at Ocean Beach with Tyler Conroy when it was stormy. I made it out. The first set came and I got some shots, then the second set came and I got pummeled. I hit the bottom and my fins flew off. I caught one with my toes and the other was gone. I was at the bottom of the ocean putting on my fin and trying to get back up. It was kind of scary, but also exciting—it actually made me want to do it even more.
It's a whole other world to shoot from water. I have to wear goggles because the light is always an issue. Those are annoying—they're tinted, and I look foolish, but it makes it possible for me. I tried it without goggles and I lasted 10 minutes. I was seeing spots, I was dizzy, I couldn't think. It wasn't safe. I also wear a helmet. The housing for my camera can leave a bruise if it hits my body. If it hit my head … it'd be stupid not to wear a helmet.
What toll does photography take on your body now?
My recovery time is a lot less now. I still get nauseous and dizzy, and I have to rest the whole next day. If I go out on the boat at Mavericks, the next day I am worked. I can't function. I generally don't have the brainpower to talk or even make eye contact. I'm in a lot of pain. There's a lot of sleeping involved.
How did Mavericks enter the picture?
I got interested in big waves, and I drove up for a lot of the fall swells in 2015 and Skinny [Ken Collins] got me on a boat for the Dec. 20 swell—the big one. The boat got hit by a wave, and Mark Healey and Tyler Fox jumped off. The only reason I didn't get all of my equipment ruined and fall off the boat was because of Bob Pearson—he ran past me and gave me a warning. There was no time to take cover. If it weren't for his arm I held onto I would have gone overboard. After that, there was no way I could be on the cliff—I had to be out on a boat.
What about the thrill is so attractive to you?
I think it's the adrenaline. I wanted to be a flight nurse, and I did ski rescues as a kid on the slopes. That's something I'm comfortable with—that type of high pressure. It feels good. Even though I'll be knocked out the next day, in the moment the adrenaline makes me feel closer to how I was before my injury. It kicks everything into high gear, and I can almost function at the level I did before.
My goal with this, if it could ever happen, is to do rescues at Mavericks, like Frank Quirarte. I don't really want to be sitting on a boat shooting—I want to be shooting while running rescues on a jet ski. But with my injury and recovery, I can't do that—at least right now. 
Do you have a favorite photograph from your portfolio?
For me, it's more about the experience than the photos. Of course I like the photos, but it's more about what I get to do to get them. Last week I almost got catapulted from our boat. I was probably three feet off the nose of the boat, and Jamie Mitchell had to grab me and pull me back in—it's that stuff, and being there for it, and shooting from tricky situations. … I loved when our boat got hit [in December 2015]. I know you're not supposed to love that stuff, but I did. It was such an adrenaline rush.
What has surf photography meant to you?
I've been in constant pain for over half a decade. That type of pain can become unbearable, and deeply depressing. Surf photography takes me out of that pain, the medical world, and all of the loss I've had to go through with my injury. It's helped bring back a little bit of purpose to the waiting game of recovery. It's joy.
Follow Lambidakis on Instagram: @audrey_lambidakis.