Marciano Cruz
By Neal Kearney
A young boy wanders outside of his neighborhood of San Pablo Huixtepec, in Oaxaca, Mexico, lured by the gleeful noise of children playing in the streets. Before he realizes it, he's walked straight into a large celebration. The 6 year old almost flees, but is halted by the hypnotic dance of a colorful, candy-stuffed piñata tied to a tree, swaying in the wind. He sees a group of 10-year-old boys lined up in a row in the street, waiting to race for the sweet prize.
A man approaches and asks, "Would you like to race?" The boy looks down. He's barefoot and wearing hole-riddled pants held up by a rope around his waist. He looks up at the other kids in their new shoes and shorts and notices that they are all laughing—laughing at him. He hesitates for a moment, but the thought of all of the candy waiting inside that purple and yellow piñata firms his resolve. He nods his head at the man and joins the line. The man blows a whistle and the boys are off. The older boys blaze past the barefooted boy—but their lead doesn't last long.
Over coffee in a Pleasure Point cafe, Marciano "Chango" Cruz mesmerizingly recounts this defining moment from his life, one that instilled in him a courageous approach to life even when the odds are stacked against him. "Little by little I started passing everyone, and before I knew it I had won," he says. "The man who got me to enter the race tried to grab me to celebrate my win … I was so shy that I got scared and I started to run away.
"So I kept running out of that place and didn't even get any candy," he adds, laughing at the memory.
Cruz arrived in the Santa Cruz area in the late 1970s and has lived in Pleasure Point for the past 20 years, where he is recognizable in the surf lineup by his dark Mayan features, loud laughter and piercing whistles of excitement. Despite learning the sport in his thirties, he honed his longboarding technique over the years, becoming a skilled and valued member of the Point's surfing scene. He's also been serving the community at large for more than two decades, namely through his efforts at the Resource Center for Nonviolence and by organizing La Liga De La Comunidad, an all-ages soccer league. Despite his successes in life, Cruz still struggles with assimilation in a country where people of color are often up against the ropes.
Born in 1963, Cruz didn't often see his father, who would travel to the United States to work. Cruz idolized his absent father and missed him desperately while he was gone. "One time, he came back from the states and brought back a watch—one of the watches that when you push a button it lights up," Cruz recalls. "At the time I couldn't believe it, and I became so curious about all the things I'd never seen before in my land or my life."
This fascination with the wonders of American life and a strong desire to be with, and also to be like, his dad prompted Cruz to join a large group of young men on an illegal border crossing when he was 13. When he arrived at the border, he called his father, who urged Cruz not to come find him. His father was afraid that his son would face hardship because he was brown. Cruz was crushed, but with no money, he kept running north.
Soon after, Cruz began working in Moss Landing and living in Watsonville, where he became entangled in gang life. "We went to a dance in Watsonville," Cruz recalls. "One of my friends got stabbed. That was the first time I saw little gangsters in the street or people that relate to the streets. I got attracted to the streets, because of the way they defended us and gave us a way to survive."
In the late 1970s, Cruz and some friends moved to the Beach Flats area of Santa Cruz. It was becoming a dangerous place. Yet Cruz says it also offered sanctuary to the marginalized members of society who sought strength in numbers and easier ways to make money than picking strawberries in a hot field all day, even if it meant crime or violence. Over the years, Cruz ran into trouble with the law. He continued to hang out with his trouble-making crew until 1989, when his world changed forever.
"I met a woman—a beautiful woman with red hair from Michigan," he says. "She became my wife and I started trying to change my life." He took a job with the Parks and Recreation Department improving the Beach Flats neighborhood, and soon had his first child, a son named Anthony. "Seeing my son being born changed my life," he says. "Seeing this little guy made me look back on things and the way I lived my life and I didn't want him to go through what I did, so I started working hard to fit into this society."
Cruz's community outreach caught the attention of the late Scott Kennedy, who was the co-founder of the Resource Center for Nonviolence and, at that time, the city's vice mayor. Kennedy proved to be Cruz's largest supporter and gave him the encouragement he needed to turn his life around. "Nobody believed in me more than Scott," Cruz admits emotionally. "He knew I wanted to survive and see my kid. He sent me through a lot of trainings to be different and to learn more about living in our society. So, through that, the courage came to start doing things in the community."
Cruz began to volunteer at the Resource Center for Nonviolence and started Kids' Club, a program in the Flats that provides a safe environment for children to go on field trips and do positive activities in their community.
It was during this transformative time that Cruz moved to Pleasure Point, where he and his son, then 6 years old, learned to surf. Cruz became hooked. The healing powers of the sea became a new focus for Cruz, and he shared that newfound passion by introducing Kids' Club participants to the sport as well.
"Water is an extension of life," says Cruz. "I believe the water heals the mind and spirit, and it allows me to help people as much as I can. It gave me the strength to be able to survive; to allow me the stability to help my family and help my community. To share this gift with the children of our community is a blessing."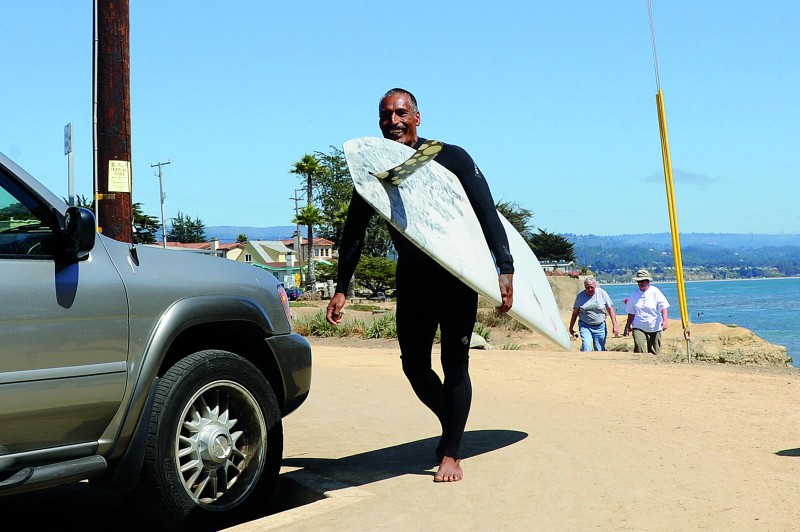 Despite his positive trajectory, Cruz still scrapes by to support his family, which now includes two daughters, Esperanza and Susana. He stays afloat by landscaping and selling some of his paintings—images based on his past and identity, such as the La Virgen de Guadalupe, the Mexican Flag, and Mayan statues. Through it all, he continues to give time and money for his community, especially with La Liga. If a player can't afford cleats or jerseys, Cruz will dig into his own savings to make sure that there are enough resources for his players.
Resource Center for Nonviolence co-founder Peter Klotz-Chamberlin can't praise Cruz enough for his work—particularly his efforts with the soccer league. "Cruz's dedication, especially for the kids, has been amazing," says Klotz-Chamberlin. "The league brings together people from different sides of town, of the county, different gang-identified areas to play soccer. I think it was an important means of violence prevention and community-building among immigrants."
Cruz's many community efforts led the City of Santa Cruz to proclaim May 12 "Marciano Cruz Day" in 2008. "I know it's hard to change everyone, but this is the philosophy I live by: if you help just one person in this world, that person can help others," Cruz says. "The idea is to keep guiding, to keep encouraging others to be positive and do positive things in society around us—that's what keeps me going."