BY: GIANCARLO THOMAE PHOTOGRAPHY
On the morning of 6/17/2018 a juvenile Great White Shark washed up at Beer Can Beach in Aptos, CA. This was a juvenile male measuring 8 feet,9 inches and approximately 500 pounds. The cause of death is unknown at this time, but this is a very fresh carcass. This shark is approximately 5 years old. I have been kayaking with these sharks for the past three years and documenting their sizes, numbers, genders and behaviors from a kayak while getting drone and gopro footage.
The shark had numerous fresh puncture wounds and scars from feeding on sea lions, and even had sea lion fur in its jaws. The California State Parks Rangers transported the carcass to the Hidden Beach ramp where four UCSC researchers and myself transported the majestic animal to Long Marine Lab where a necropsy will be performed early next week.
It is unlikely that the sea lion killed the shark but we wont know the cause of death until the results of the necropsy are released. There have been strains of bacteria that effect brain functions of sharks, and many shark deaths have been blamed on Carnobacterium infections in previous years. These bacteria is nearly harmless to humans (surfers or swimmers).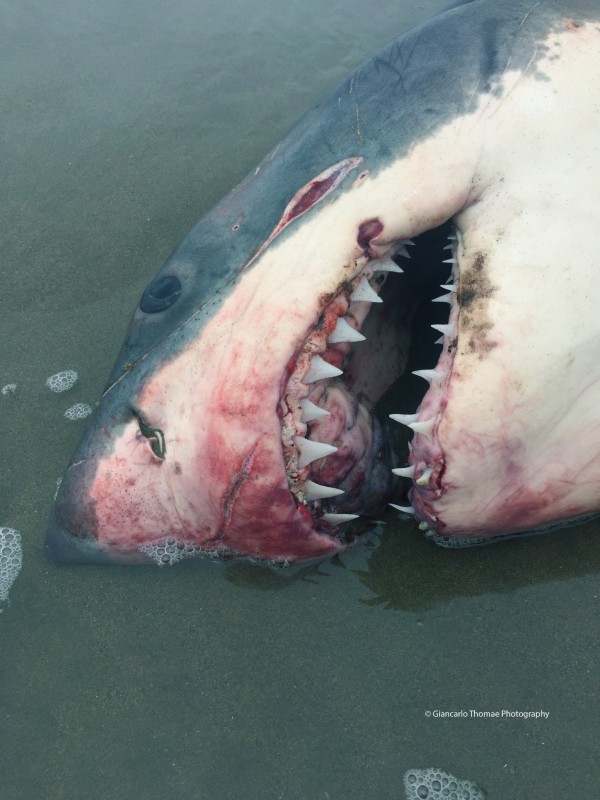 Shark Jaws: A head shot of a deceased great white on a Santa Cruz County Beach.
Shark For Scale: A scientists lays next to a young shark for scale.
Photos: GIANCARLO THOMAE PHOTOGRAPHY