For Kevin Walsh, art is about creating first and asking questions later
By J.D. Ramey
---

Soon after graduating from high school, a fresh-faced artist/surfer named Kevin Walsh created one of the most outside-the-box job applications ever: a hand-painted surfboard adorned with a sign saying he was looking for work painting boards. Naturally, he took this creation where a large number of potential employers could get an eyeful of his work: the O'Neill Coldwater Classic.   
Walsh's talents weren't lost on Stretch Boards owner Bill "Stretch" Riedell, who quickly offered him a job as a graphic artist. The young artist's rewards for stepping out of his comfort zone were a dream-come-true gig and a long-term career.
"The whole reason why I'm able to do what I'm doing right now is 'cause I chose to do that," says Walsh, now 34. "If you want something, you have to go out there and get it. That's all it takes, 'cause I wasn't that great of an artist yet. Getting the job painting surfboards is what opened the door to living my dream."
From there, businesses began approaching Walsh to create T-shirt graphics, logo designs and posters for concerts and surf events such as the Vans World Cup of Surfing at Sunset Beach and, of course, the Coldwater Classic. In being asked to do work he wouldn't have done otherwise, he was forced to expand his abilities. Part of this meant figuring out how to use the computer for graphics. "I just kind of learned as I worked," the artist recalls.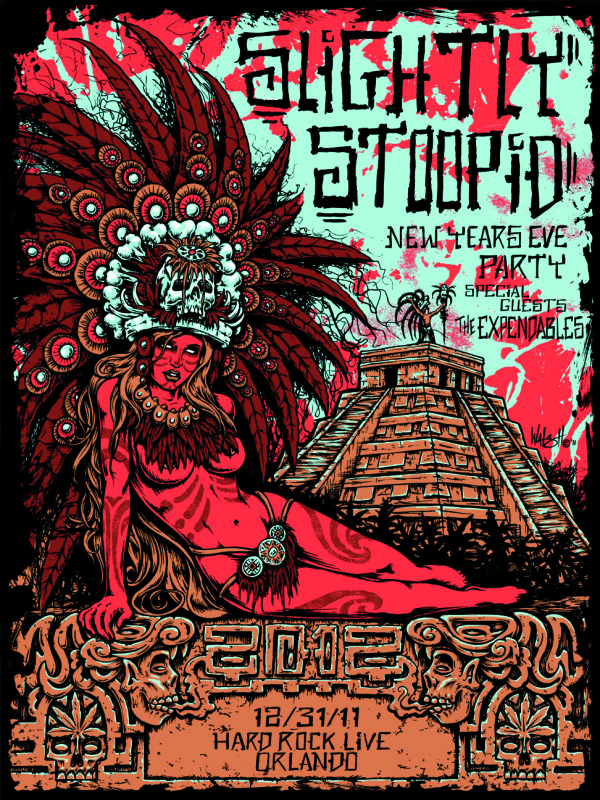 Since then, Walsh's work has appeared on decks from Creature Skateboards, on human flesh in the form of tattoos, on the surfaces of guitars and on concert posters for artists like Stone Temple Pilots, Michael Franti, Slightly Stoopid and The Black Eyed Peas. As he recounts, the poster art work first came to him through a friend for whom he was doing surfboard art. "One day he told me, 'Jack Johnson's going to be coming through Berkeley. You'd be perfect to do a poster for it, if you're interested,'" he says.
Walsh, a fan of metal, punk and "the real, raw country music," is especially fond of a poster he made for a Metallica concert. "That was a dream come true, because that's always been a childhood favorite of mine forever," he says, adding that he has always been "really into darker music: just anything that has a little bit more raw power to it, because if it's a more psychedelic sound or a darker sound, there's so many different directions you can go with creating images for that, rather than just your run-of-the-mill pop music."
For all the diversity of the media with which Walsh works, he claims that his various canvasses have more similarities than differences. "It's all just planning: knowing where to start first and where to end," he offers. "It's just a little bit different with the application, but as far as the way the mind works with visualizing shade, color and that kind of stuff, it's all the same. There's just a couple little things you have to tweak."
While growing up in Santa Clara, Walsh first saw a possible career path in art when he witnessed the achievements of his father, a successful self-taught artist. He soon took to mimicking his dad, painting whales and other marine life in his studio.
The now-grown artist still finds his greatest inspiration in nature. "My favorite thing to do is to be outside, whether it be on a lake, river, mountains, anywhere," he notes. "Wildlife art and western art has always been the stuff that's really triggered my imagination. Surfing, especially around here, you can go surf away from town and just be by yourself and have a lot of time to just be in your mind and think. And the obsession of surfing—it's like having a nervous tic where you can't help it: you're constantly drawing, doodling waves."
Walsh, who expresses an interest in taking on a young apprentice who wants to paint surfboards and get a job as an artist, is hard-pressed to name a highlight of his career so far. "You're always looking ahead, wanting to do the next thing," he states. "Whatever you've done is already in the past. Really, all of it is a highlight, because it's all building blocks to where I'm at now and where it can go from here. Every bit of progress that I've made at that time was a huge highlight to me."
See more of Walsh's art on Instagram @kevinwalshy.