By Tyler Fox
Photos Courtesy of Dennis Bassano
While mindlessly scrolling through the vast sea of social media—where vanity runs rampant and pucker-lipped models holding pampered pomeranians reign supreme—I stumbled upon an Instagram account, @smiley_art_work, that stands out from the rest. It hasn't garnered millions of followers and boasts no gold-plated Bugatti, yet there is something unique about it, something mesmerizing: The images are of beautifully welded steel lizards, jungle tree houses, and three-wheeled desert boats that look like they belong in a Mad Max movie. The art and treehouses are neat, however it was the futuristic land boats that really sparked my intrigue. I had to learn more. 
I reached out to my pal and eternal grommet Hal Turner, who is a mutual friend with the account's owner. I soon learned it was a man named Kurt "the Wrecking Ball" Smiley, who grew up surfing and sailing around Santa Cruz and is now living the dream down in Costa Rica. It didn't take long until I was on the phone with Smiley chatting about his life and passions and why the unorthodox sport of land sailing keeps him coming back year after.
When it comes to sailing, why leave our beautiful Monterey Bay waters for a dusty, dry desert?
For the same reason sailors have been crossing oceans for hundreds of years:  Adventure, discovery, challenge and how to go as fast as you can under sail. Like the ocean it can be brutally harsh but the thrills of pioneering something new—which few had ever seen or dreamt of—sparked our passion for "dirt boating," or more properly "land sailing."
How did you get into it?
My dad took my brother and me on a dirt boat trip when we were young. … It only took one ride to know I was hooked. The feeling of holding all that power and the exhilaration of being propelled like a slingshot across the open desert planes was something I'll never forget. There was so much to learn with the invisible winds and the deserts secrets; the vastness and freedom. My dad and his friends were having so much fun, how could us kids complain? My brother and I learned fast and at a young age I had the confidence to push my dirt boat into 100-foot power slides at 50 miles an hour, lifting tires and doing controlled 360s, all to come home and go to school and not tell anyone what I did for Thanksgiving or Easter break because no one would comprehend or believe you. I'm so thankful my father introduced us to not only the sport but experiences and places it's taken us along the way.
You mentioned you think its popularity is declining. Why do you think that is?
That is a long discussion but I think it's in the new generation of "look at me, look at me," [with] Facebook and all the [digital] media.  We aren't out there doing selfies and such. … It's in our blood and, like sailboat racing, it can be boring to watch if you don't love it. It also takes some serious commitment: Eight hours of driving with trailers and packed campers ready for any of the harsh environments you may encounter. … Then it's just a waiting game for the right winds.
How fast can these dirt boats go?
Well, a couple guys with no sailing experience built the Iron Duck in the late 1990s, which weighed about 2,000 pounds and [was] far from pretty. Bob and Bob were their names and they took a pretty good crash, which forced them to change the design of the boat, but as fate would have it they broke the speed record in November of 2000 going 110 mph. It was impressive!  With all the advances in GPS and hand-held gadgets and advanced speedometers today, it's easy to see your speed and I believe the speed record now is 125 mph. When it comes to racing, the boats are set up in classes according to sail area or one specific design, with the big boats averages around 60 to 75 mph in 15 to 20 knots of wind. Twenty knots and above can be scary so this will separate the pack. Like dad would always say on the starting line, "Go fast, take chances."
Tell us about SASSASS and the culture within land sailing.
SASSASS stands for Sunny Acres Sailing Sipping And Soaring Society.
Try to imagine this image: In the early 70s, a group of sailing buddies from Santa Cruz and Southern California looking at maps of the deserts in California and Nevada. They chose a time and place and made the long drive, not knowing what they were going to find but this was the spirit of adventure. They came across the dried lake Ivanpah, which sits at the state line of Nevada and California. This lake was perfect in many ways: Access, civilization nearby, and un-molested by motorcycles and off-road vehicles. So this group of beer drinkin' sailors had found their spot and set up camp and began to assemble their crafts. If there is no wind, you'd seek shade, pull out the rum and beer. Games are set up—Bocce ball, croquet (sometimes with cars),
bicycle golf (a strange form of pollo on bikes), and remote-control gliders. We'd joke and come up with names for our boats and new terms only found in land sailing. "Boing-osity," how much flex is in the axel or hull, is just one example. We also have a perpetual trophy called "The Wrecking Ball" for someone always breaking things and or crashing. I'm on it so many times it's kinda been my nickname for years depending on who you ask.
And were there competitions involved?
Yes some serious, some not so serious. My best year was in 1998 in France and Belgium, when I finished second in my class. There were no money or sponsors in the states, but [there were] in Europe and other countries. FISLY—[I'm] not sure what that stands for—invited the top five sailors in the states and let us use their boats and put us up in a hotel on the beach overlooking the race course. We were used to dry dirt lake beds, not the narrow beaches they were accustomed to. The format, the beach, the tides and conditions were all new to us. There were over 60 boats on the starting line and it was nuts. It was a great experience but it was a bit much for all us SASSASS fun hogs.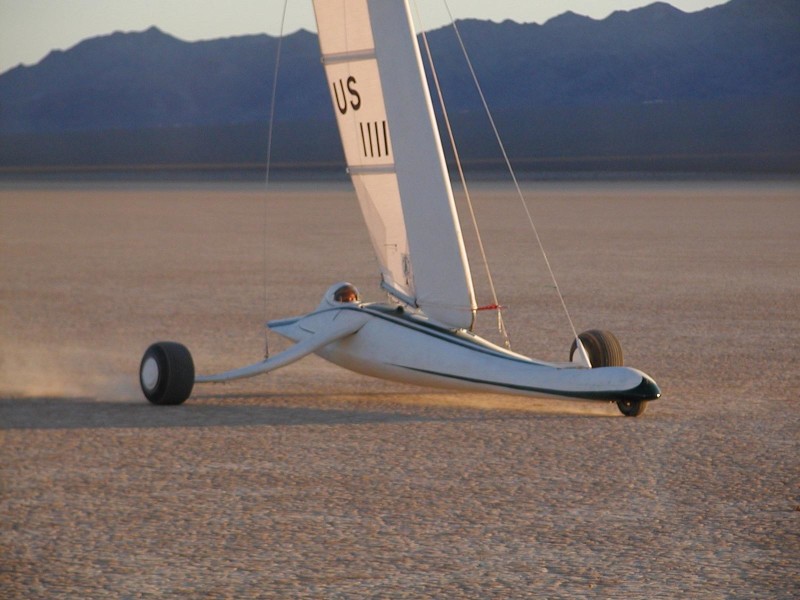 What have you been up to recently, and what's next for Kurt "the Wrecking Ball" Smiley?  
At this time in my life I'm trying to make a change. I miss my daughter Leah and now that she has a little girl, Coral, I feel my heart being pulled back to California to be closer to family and old friends. Both my kids have always encouraged me to do more art, so I'm thinking of pursuing it more seriously. I have always loved sculptures and working with steel: Welding, torching, plasma cutting, hammering, grinding … Transforming these raw materials into something that evokes emotions within the viewers really gives me enjoyment.  I'm putting together some of my art work and a portfolio for Open Studios next year in Santa Cruz and [am] looking forward to trying to make a fun living through my art and some custom stuff on the side as well. I'm not super active on there, but feel free to follow my Instagram at @smiley_art_work to check my work and stay up to date with some of my projects.