A return to Argentina yields new vistas and insights
By Joel Hersch
Argentina as a travel destination has enticed me to return several times over the past decade, most recently in January for a month-long backpacking stint that revealed new corners of the intriguing, deeply diverse South American nation. Not only does Argentina possess a uniquely multicultural makeup—heavily comprised of Italian, Spanish and German immigrants, plus countless smaller slices of you-name-it—the country's scenic geological compositions are also wildly alluring, especially for someone wielding a camera. Here's a look through my lens at four Argentine locations that drew me in and prompted enduring contemplations.
Buenos Aires
Anyone kicking off a trip in Argentina will likely start their journey in the capital city of Buenos Aires, where locals are known as Porteños. The expansive city has a long history of public political resistance, which has its roots in a dictatorship during the '70s and '80s that tore apart families and "disappeared" upward of 30,000 leftist dissidents. Walking down Avenida de Mayo, it's not uncommon to encounter high-energy rallies, full of beating drums and radical horn-playing, in this case lead by workers' rights organizers. The country is now in the throes of an economic recession: the Argentine peso is currently worth less than half of what it's worth to the U.S. dollar compared to the last time I visited in 2014, and the financial hurt among small business owners and taxi drivers is worn on their sleeves. Even so, the opportunity for protest can still be held closely and warmly between family, as this young girl's smile portrays.
San Carlos de Bariloche
The Patagonian city of Bariloche is nestled in the Andean foothills and hugs the southern edge of the wind-swept Nahuel Huapi Lake. Easily mistaken for a high-Alpine Euro ski town, Bariloche looks and feels cold, though keep in mind that January is summertime in Argentina. The tourist town draws thousands of skiers during the winter and mountaineers during warmer months, but during my visit uncommonly cold temperatures kept nights on the verge of freezing. Bariloche has the overt feel of a German village, and a historically darker undercurrent of Nazi fugitives who quietly integrated into the township after World War II. One SS Nazi captain was extradited in 1994 for his war crimes after being confronted in the street by a U.S. news team. Apparently, Bariloche has baggage. In step with a group of Porteños who had taken me in as one of their own on a previous visit, we bundled up against the cold and trekked surrounding hills with wicked mountain vistas, practiced lakeside acroyoga under a skin-searing razor sun, and brought in the New Year with a backyard bonfire and Spanish guitar singalongs.
Iguazu  Falls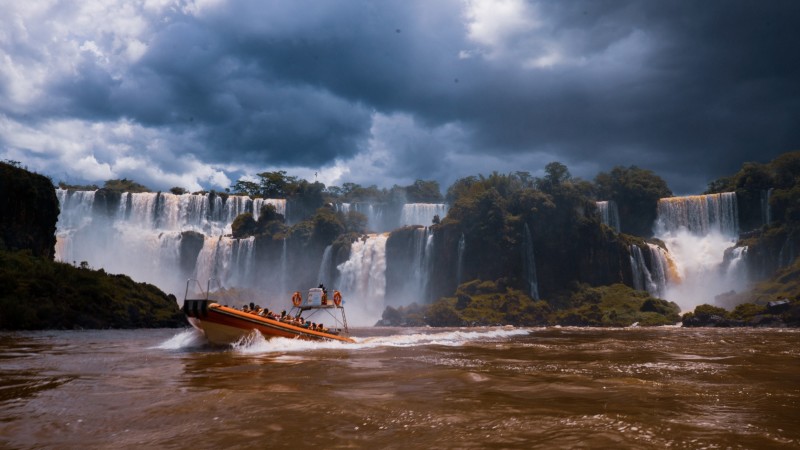 Formed by shifting tectonic plates about 10 million years ago, the Iguazu Falls are the largest waterfall system on the planet, all fed by the huge Rio Igauzu snaking between Argentina and Brazil. Watching over the highest point of the falls, a flow convergence called the Devil's Throat (269 feet above the lower river section) it is difficult not to imagine a tragic pre-colonial scene unfold. Walking along a steel-grated pathway over the upper river, toward the watery precipice, the river flows peacefully and the roar of the falls doesn't overwhelm the ear. How many ancient unsuspecting, Indigenous canoe paddlers—exploring from far upstream—have slid over these giant falls to their death? What about fish? Do they know not to swim over the edge, along with 400,000 cubic feet of water per second? Because it's a long ways down, and a Devil's Throat has to swallow something, right?
Road to Purmamarca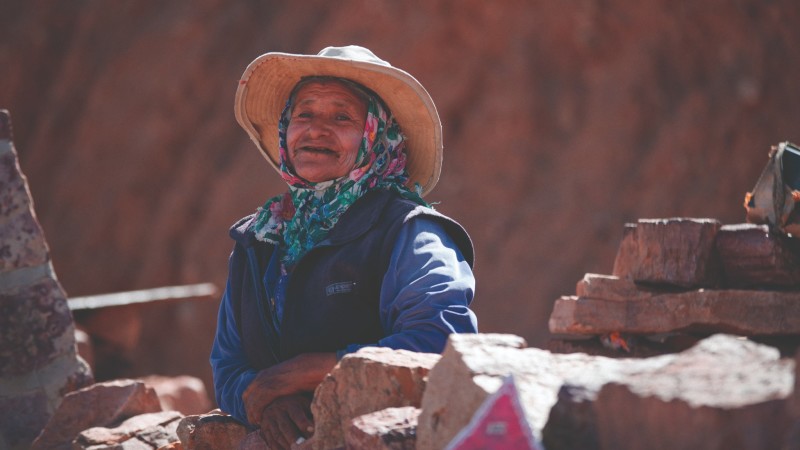 In the northwestern corner of Argentina, the city of Salta is my kick off for a high-elevation road trip up to Purmamarca, land of the colored mountains. The route is defined by cactus-strewn, river-scarred canyonlands, harsh mountainscapes with patterned, undulating sedimentary deposits, and layer-caked rock formations showcasing deep tones of purples, greens, turquoise, and earthy clay. I took a van tour that rolled me up into the highlands, first along a riverside locomotive route called "train to the clouds," toward Bolivia. A dark, misty layer of weather hung low over the terrain most of my trip, but parted periodically for surreal views and pee breaks. In some ways, it reminded me of Big Sur. It's a part of the world that would be easy to wander off into, let yourself get lost, maybe even completely derail—go a little crazy—and enjoy the peace for a while.