The origins of Andrew Ward's dynamic ocean-inspired artwork
By Dave de Give
Bonny Doon artist Andrew Ward ended up in Santa Cruz by happenstance. As a child, the sculptor lived far from the Pacific Ocean, in the Pittsfield Township area of Oberlin, Ohio. When he was 8 years old, he faced a life-altering event: In 1965, the Palm Sunday cluster of tornadoes—numbering 47 in all—ripped through six states in the Midwest and blew through Ward's hometown, destroying his family's two-storey brick house.
Ward's father, who was a professor of literature at Oberlin College, and brother were killed in the tornado that took down their home. Ward, his mother and sister survived, after Ward—who was the only family member not entrapped in the wreckage— walked a half mile in bare feet to a neighbor's house for help.
When his mother remarried, the reconstituted family moved to Santa Cruz after his stepfather was accepted to UC Santa Cruz as a graduate student. It was both a heart-rending and seminal period in Ward's young life, but the artist looks back fortuitously at his life's curveballs: Although he had been through a hellacious experience, it brought him to Santa Cruz, where he soon developed a strong love of the ocean that blossomed into a long career as an artist and a life full of fishing, diving and other water sports.
"It was uprooting," says Ward. "But I started surfing after a few years and went to the beach all the time, and [did] mat riding and sailing. And Santa Cruz was a pretty neat place to be a kid back then. It really was."
His early childhood experience led him to an interest in rescue. He was a member of the City of Santa Cruz Beach Lifeguard Service for 10 years, beginning in the mid-80s. During that time he led a petition drive to ensure the continued operation of emergency call boxes along West Cliff Drive so that surfers and others enjoying the water could more easily contact rescue units to respond to emergencies during those pre-cell phone days. In 1990, he joined the Santa Cruz Fire Department as a part-time reserve firefighter, and was later a founding member of the Surfrider Foundation's Santa Cruz chapter.
At the same time, Ward developed artistically, starting with an interest in landscape painting gleaned from an elective class at UCSC in 1976. He's gone on to express his love of the sea and living in Santa Cruz by creating all manner of beautiful clay renditions of fish, surfboards and various other marine inhabitants and remnants, as well as ocean-themed mosaics.
Along with discovering art and making it his major at UCSC, Ward worked in the construction trades, bringing his artistic talents to the fore in working with steel and concrete and setting tiles. He learned how to lay brick in concentric circles during a job he got from Manuel Santana, a family friend and Ward's mentor, who founded the popular Manuel's restaurant in Aptos. Ward also cites the famously creative Catalan architect Antoni Gaudí as one of artistic influences.
In the summer of 1994, Ward was close to finishing his thesis project, a Gaudí-inspired mosaic hot tub, when life dealt him another serious blow. The problem first arose while he was participating in the Aquaman race, a triathlon-like event that was popular with lifeguards and that began at the cement ship in Aptos and ended at Cowell Beach in Santa Cruz. He had competed in the race many times before, but this time he was more fatigued than usual and felt a pain in his abdomen, which, at first, he tried to ignore—until he received his diagnosis that fall.
"I had a really serious case of non-Hodgkin's lymphoma and I was not expected to survive," says Ward. "I had Stanford doctors and they made every heroic measure to save me and as it turned out I responded pretty well to the [chemotherapy] treatments, although they were caustic."
Members of a prominent local real estate family, the Ows, had seen the tile work on his hot tub project—which he completed after his recovery from cancer—and commissioned him to create a 25-foot-long mosaic fish wall for the King's Village shopping center in Scotts Valley. Thus began a new phase in Ward's career: public art.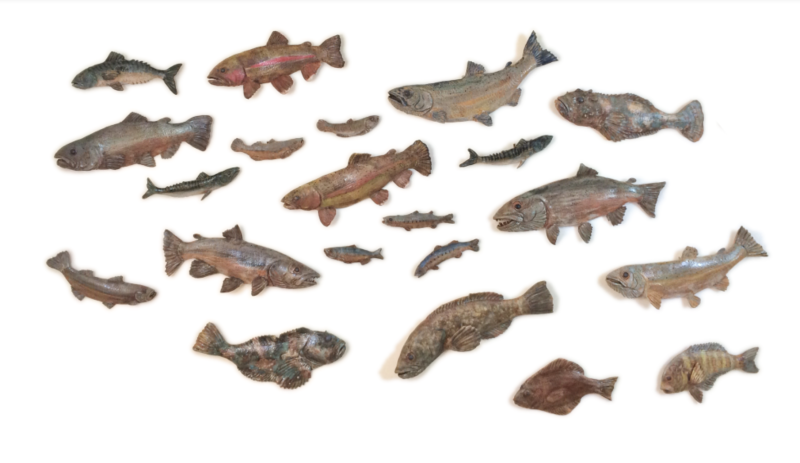 He's created numerous public finstallations—fish and sea life sculptures grouped together to recreate an under-the-sea experience—including two that can be found locally at the Monterey Bay National Marine Sanctuary Exploration Center in Santa Cruz and the old Wrigley building on the Westside.
"Walking into the space provides a magical feeling of being underwater," says Leigh Erickson, an artist and gallery owner at the former Wrigley factory-turned-business hub. "The school of fish is eclectic, just like the community."
Ward lives life these days with a sense of gratitude, and much of his public art is driven by the motivation of giving back to the community. "It's like this frenzy," says Ward of his finstallations. "And I'm using all these skills, from things I learned in college to lifeguarding."
Vistit andrewward-art.com to learn more.