Nature lover braves the elements to capture dramatic moments
By Neal Kearney
A few hundred yards seaward from the Santa Cruz Harbor, an awe-inspiring feat of nature chokes the air space. Thousands of sooty shearwater birds are swarming in a migratory pattern that takes them an astonishing 40,000 miles round trip, including a stop here, now, in the Monterey Bay. A tall blonde woman motors her small dinghy out of the harbor and positions herself in the thick of this dense avian invasion, amidst an impenetrable wall of flapping feathers and wings that seem to stretch for miles.
It appears as though the photographer, a local ace named Alison Gamel, is stuck in a terrifying situation straight out of Alfred Hitchcock's The Birds, but being engulfed in chaos is a position Gamel feels comfortable in and even bravely seeks out. To her, there's nothing more peaceful than putting herself in position to capture the beauty and drama of the natural world.
This love for nature and our local waters is reflected poignantly in Gamel's incredible images, from molten sunsets over the North Coast to humpback whales "lunge feeding," majestically framed by the Santa Cruz Beach Boardwalk. She spends so much time out on the water fishing, mostly aboard her trusty dinghy, that she is privy to some unique perspectives and shots.
Waves caught up with Gamel on a baking September day to hear how capturing the beauty of our environment has influenced her art.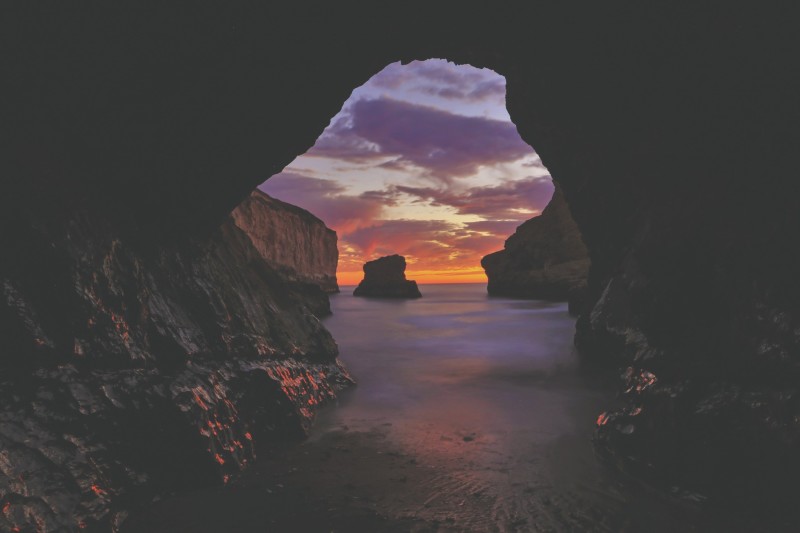 How did your love for photography grow?
I got into photography through my passion for growing flowers. They are such beautiful plants and [so] eye catching that I just started wanting to share what I was appreciating. I started photographing them and things just "blossomed" from there. [Laughs.]
How did your hobby evolve in those early days?
Hummingbirds, flowers, and nature scenes—that's what I started with. After a while, my obsession entered a "breaking and entering" phase. I lived in the hills of Soquel and to get all the good pictures I may have had to jump some fences and stuff sometimes, but when I'd get caught I'd just smile and play it off.
Your work is now very ocean focused. How did you shift from land to sea?
I grew up going to Campbell River in Canada every year, the salmon capital of the world. We'd set up triple hook-up fishing. My grandpa taught me how to clean, catch, fish … it's in me. I just love it so much. As I got older, I just wanted to fish all the time. I wanted to be on the ocean. I found that that's where I'm the happiest. Although my photography started [on] land, my love for being on the water led to taking pictures from the ocean.
What propels you to venture out from the harbor on your dinghy day in and day out?
The thing I love about shooting from the ocean is you never know what you're going to get. You never know what you're going to see, whether it's how rough the ocean is or the wildlife, like whales and dolphins. One time I saw a leatherback turtle, which was special. I like taking shots out underneath the pier cruising around Cowell's while fishing for halibut. They are elusive! I've only caught one.
Have you ever seen sharks while shooting?
I was taking photos from the air and I captured some images at Manresa of surfers unknowingly surfing extremely close to a couple great white sharks.
Is there any other danger inherent in your photography?
On the boat, when there's fog, coming into the harbor at night is sketchy as heck, even with navigation. You get so turned around, so catching those sunset shots can be a risky business. I'm also the one who has to jump off the boat and tie us off.
What's the hardest part about being a successful photographer in Santa Cruz?
For me, the hardest part of photography is the competition. It's tough to put out your work to constant scrutiny, but I just want to share the rare moments I capture with people, for them to feel how happy it made me when I saw it. When it translates well and people dig it, then I feel my job is done. I've gotten where I am now through a lot of hard work and practice. Every freakin' night. Even with a broken rib, I barged two and a half miles with 40 pounds of weight on my back to get a sunset shot on a dicey trail up north.
What else inspires you to pick up your camera?
I really care about the health of our ocean and try to do my part to help. I was taking pictures of the sea lions beneath the wharf one day and I saw a sea lion with a fishing line wrapped around its neck. I took some photos and when I got home and looked at them, I noticed a three-inch-deep gash and it made me so upset. I called the wildlife rescue, but that really affected me.
Your images of lesser-known beaches north of town provide viewers with seldom seen views of secluded beaches. How did that progress?
I had to move out of Santa Cruz because of the crime and found a house in Bonny Doon. If you see a good sunset coming, Bonny Doon Beach is the closest beach around. I started out not knowing a thing about all the different beaches up the coast, but I just explored and explored and now it feels like I know every single nook and cranny. Access to these spots can get gnarly. Unless you wanna stand up on the cliffs and take pictures there, almost every beach up the coast is only accessible by sketchy trails down the cliffs. With all the gear I slog, it gets pretty iffy at times.
Where is your favorite spot to shoot up there?
Panther Beach. The natural arch formation is unbelievably beautiful there. It just sucks how crowded it's becoming. Everyone leaves their trash there, too. It's out of control. I find myself trying to lead by example, because it seems that's the only way they'll get it. So, when they are down there watching how beautifully the sun sets over the ocean and see me pick up their beer bottle, they learn. That's my hope, at least.
What is the most elusive image you've nailed?
Whales are so hard to capture. It's rare to get humpback in front of the boardwalk. I'd just lost the biggest fish—a huge salmon—and I was in pity mode. I looked up and saw the whales, so I got lined up in front of the Big Dipper waiting and fortunately one totally jumped out of the water and I caught it.