Rachel Barnes, aka Human Shaped Animal, on the art of crossbreeding paintings with houseplants  
By J. D. Ramey  
While earning her B.A. in painting and digital design at Bloomsburg University of Pennsylvania, Rachel Barnes found herself making paintings of a new species: a hybrid of humans and plants.
"They often were body parts morphed with plant matter, inspired by yoga poses," the artist recalls. "Other times they were faces or heads that were the hybrid with the plants."
Over the years, plants have gradually taken on a starring role in Barnes' art. These days one of her specialties is something she calls "art planters": works of art that double as housing for live flora.
"I've always liked the idea of plants being more incorporated into our world than they are," she offers. "I think that's my way of doing it."
Barnes, who markets her art under the alias Human Shaped Animal ("In college in sociology class, my professor just said it in passing: 'We're all just human-shaped animals,' and it stuck with me," she explains), is fascinated with the way that plants and animals live "intuitively, by instinct, and really with their body rather than separated from it." She notes, "I often feel like the human race feels like they are so superior due to their human brain, but really I think that's what causes just about all of our problems."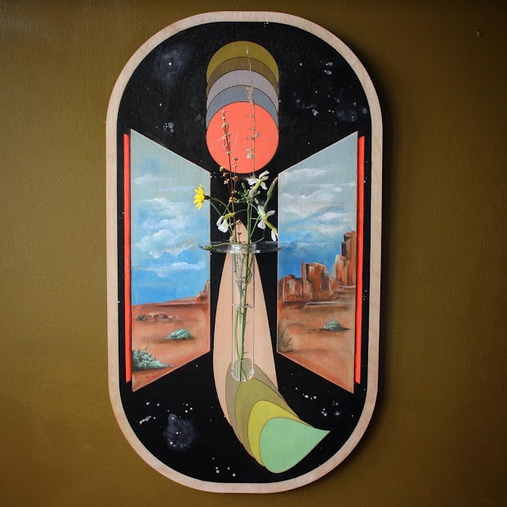 Barnes became a Santa Cruz resident in 2016. A turning point in her artistic evolution came in the form of a membership to Idea Fab Labs, a Westside Santa Cruz space that offers access to tools like a laser cutter, a CNC router and 3D printers. "They're constantly adding to the machines you can use," she says.
One particular machine—the laser cutter—has become essential to Barnes' work. Among other things, it has made her designs cleaner and more concise.
"When I was in college I did a lot of loose paintings," she recalls. "It was very dripping and [full of] splatters. But I feel like it's gotten tighter and tighter, especially with the use of the laser cutter, because I can map it all out first."
Geometric designs are key to Barnes' style. "I think I'm drawn to that because [these shapes] are in everything, so I like the idea of breaking [objects] down into their pure form," she muses. "And they really do make you feel things, even though it's just shapes and colors. I can't always pinpoint a feeling that I'm trying to convey with actual images, and I feel like sometimes shapes, weirdly, do that."
Another important part of Barnes' aesthetic is her playful use of color. "I really enjoy color schemes that don't always make sense right off the bat," like pairing bold neons with muted natural hues, she says. "That's kind of a little game I like to try to figure out: 'Okay, these colors shouldn't go together, but for some reason they kind of do in this scenario.'"
Barnes, one of six members of the local collective/gallery/studio space The Art Cave, says she is always available for hire as a muralist. Her mural work can be seen in spaces like Moe's Alley, West Lake Elementary School and the food court of Sunnyvale's Yahoo Headquarters. Over the past couple of years, she has experimented with creating murals by arranging several different woodcuts on a wall as a single work of art. Formed to Emerge, the first piece she constructed using this method, can be seen at Idea Fab Labs. She says this technique is "definitely a little bit of a challenge, design-wise, because you have to think of the entire piece as a shape and then break it into multiple shapes that work together. But it gives you a lot of freedom to work during your own hours and in your own space. Plus, it gives it this amazing dimension to it that you can play with."
Barnes feels that her self-expression runs parallel to her self-exploration. "I'm forever honing in on who I am, exploring and refining, and it reflects in my work," she says. "It goes through big changes, yes, but it still keeps the same core essence … just like me!"
Find Rachel Barnes online at humanshapedanimal.com and on Instagram at @humanshapedanimal. Learn more about Idea Fab Labs at santacruz.ideafablabs.com, and The Art Cave at theartcavesc.com.